Images supplied by EWA
Enzinger Engages at WA Coaching & Officials Update
Equestrian Western Australia's coaching committee held a very well attended Coaching Update at the WA State Equestrian Centre (SEC).
The presenter was Victorian 5* event rider, Will Enzinger, an EA Level 3 Coach, Coach Educator and EA High Performance Panel member for HP development.
The update was open to all current EA coaches, officials and judges. It was encouraging that a number of coaches, who were not due for their update still attended. Level 2 coaches also had the opportunity for their coaching tasks to be assessed, if required.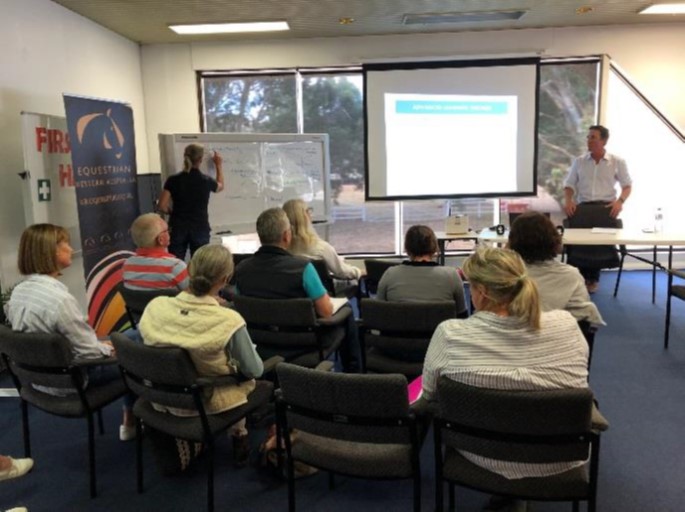 The day started with the compulsory insurance and risk management information video from EA's National Equestrian insurer, Gow Gates. Some of the items covered were:
the implications of giving professional advice
the necessity of signing waivers
assessment of horse and rider
mixed standards of groups
incident reports and
top-up insurance
This was followed by group discussions on encouraging more people to become accredited, the decision to specialise in their chosen discipline, individual and group lessons, any problems coaches were experiencing, chaired by EA Level 2 General Coach and Coach Educator Philippa Collier.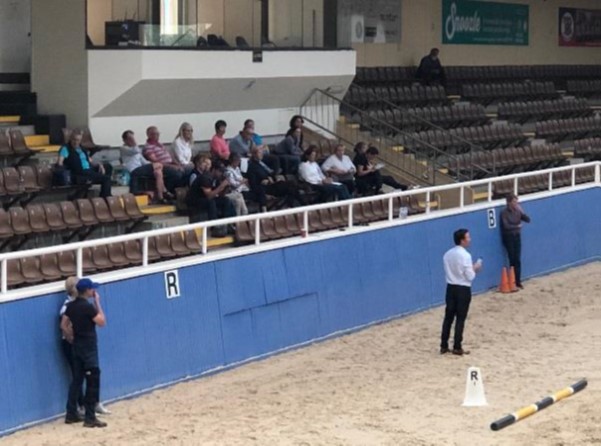 The first afternoon session started with Will giving practical coaching demonstrations in the indoor arena covering the 'Practical Application of Advanced Learning Theory' on coaching dressage.
The demonstration riders were asked for ongoing feedback on how they and their horses felt, and then moved on to changing their horses' outline and length of stride, with a lot of exercises on a circle. Will stressed how important it was to maintain the horse's level of energy and to concentrate on the riders 'not losing their focus'.
An interesting set of fences was set up for the jumping session. It included a gymnastic exercise of a grid of cross poles, which could be done at trot or a bounce at canter, three strides from a fence, two single fences with a related distance between and a separate single fence.
The different lines were designed to improve the effectiveness of the riders to control the number of strides between fences and ride straight lines and turns, as part of the approach and departure. The riders then progressed to quite difficult angles with specific numbers of strides.
Will stressed that coaches must be aware that each student does not learn in the same way. This means that if the coach chooses only one style of teaching i.e. direct instruction, collaborative learning or experiential learning etc, the students will not be maximizing their learning potential.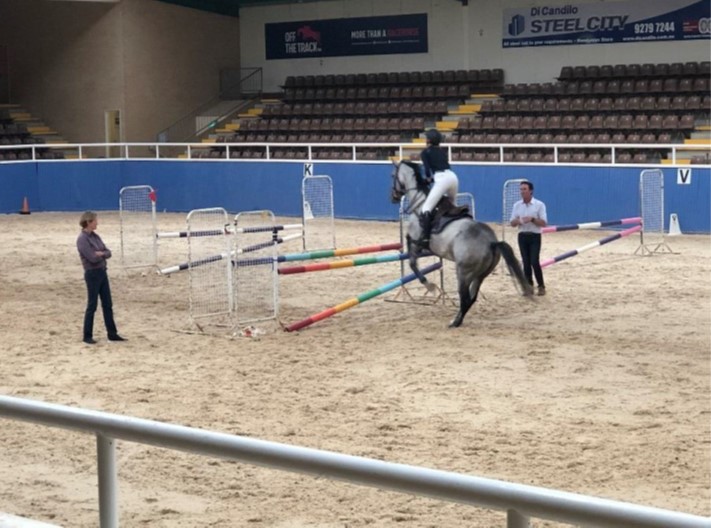 The 'Advanced Learning Theory – How we Learn' session discussed how information is absorbed, processed and retained during learning and how cognitive and environmental influences, as well as prior experience, can all play a part in how understanding is acquired or changed.
Will discussed the retaining of knowledge and skills, the three phases of skill acquisition and differences between 'Direct and Explicit' learning. Coaches were asked to explain what they understood 'Self-Efficacy' to mean and how they would develop it in their students.
This session was jointly presented by Will and EA Level 2 General and Coach Educator Rebecca Thomas and covered examples of visual, physical and verbal methods, with a summary of the cognitive, collaborative, experiential and constructivism key points.
Supplied by Diane Bennit - Chair Equestrian Western Australia Coaching Committee
February 2020