Exciting weekend for Blanks in Belgium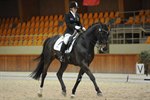 Four months out from the 2014 World Equestrian Games and Australian Para-Equestrian team hopeful Nicole Blanks has achieved some pleasing scores at Moorsele CPEDI3* in Belgium over the weekend.
The 23 year old Elite Squad rider and her warmblood gelding Vledder placed 2nd in the Grade IV Freestyle with a score of 72.80% which was a personal best.
In the team's test Blanks scored 69.190% and in the Individual test the pair scored 69.23%.
Blanks admitted she was slightly intimidated to be in a field amongst Paralympic and European championship medallists but remained focused on her goal of achieving qualifying results.
"The atmosphere at the international competitions is just incredible. Not only are the riders and trainers very talented they are also lovely people. There is such a team spirit amongst them, and it was great to sit, chat or have a meal with riders from all over the world," said an excited Banks. Nicole now returns to Australia to continue her study but described the trip as an amazing experience.
"One thing this trip has highlighted to me is the importance of time on Vledder and nothing can take the place of competition experience," she said.