Global Champions Tour 2013: The New Season Revealed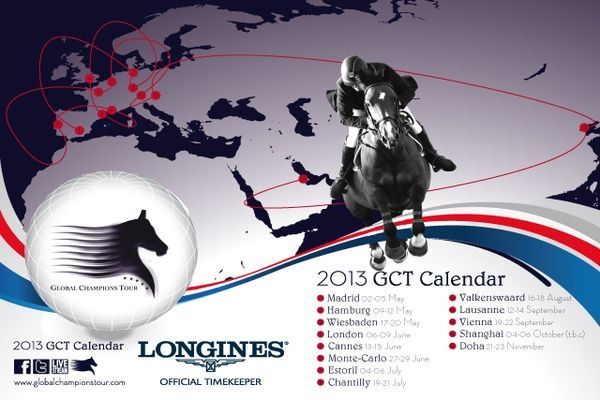 Global Champions Tour 2013 opens a fantastic new chapter in equestrian sport with spectacular events in London, Doha, Shanghai and Madrid.
The world's premier show jumping championship series continues to go from strength to strength with a record 13 international events in its 8th season launched Thursday. The Top 30 riders will once again deliver world class sport as they compete for the richest prize money in show jumping and the coveted GCT Championship crown. 
Kensington Gardens in London will host the Global Champions Tour of Great Britain in June, the first-ever GCT event in the UK. The stunning show is set to take place in front of Kensington Palace in the heart of London, only one year after the Olympic Games. British Olympic gold medallists and UK jumping legends - including Nick Skelton, Ben Maher and Michael Whitaker, are sure to pull in the crowds at the dazzling event.
The starting gun for the Championship race will be fired in Madrid where the opening event of the season takes place from May 2-5.  The most famous riders on the planet will begin the battle for ranking points at the Club de Campo Villa de Madrid close to the sophisticated Spanish capital.
The GCT series continues to Hamburg and Wiesbaden in Germany and then to London and the Kensington Gardens venue next to the home of Prince William and his wife Kate. As the competition hots up, GCT moves to the Riviera locations of Cannes and Monaco before stopping off in Estoril, Chantilly, Valkenswaard, Lausanne and Vienna.
GCT is set to continue its show jumping revolution with the first-ever international 5* event in Shanghai, China, from October 4-6. The dynamic city with its gravity-defying skyscrapers, is set to be the first GCT in Asia. With fierce competition for the top spots on the leader board in full swing, riders will do battle at the China Pavilion in Shanghai's World Expo Park. Floodlit outdoor show jumping in Shanghai, known as the "Paris of the East", is expected to attract a star-studded cast of elite international riders, including reigning GCT Champion Edwina Tops-Alexander.
Qatar will host the GCT Championship Final at the prestigious state-of-the-art Al Shaqab Equestrian Centre in Doha. Founded by His Highness the Emir of Qatar, this magnificent new venue will see the best riders in the world pull out all the stops to win the GCT title for 2013. The 5* event at Al Shaqab, a world class equestrian facility and part of the Qatar Foundation, will take place from November 21-23 and will deliver an electrifying climax to the season.