Hanna's WC Campaign Concludes with a 13th in the GP and 15th in the Freestyle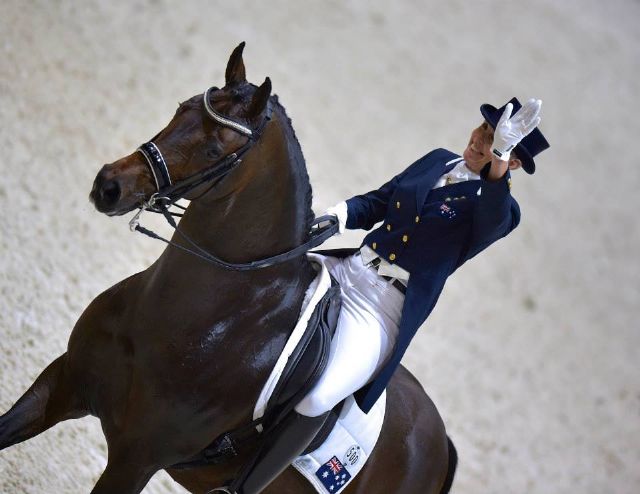 Mary Hanna and Sancette have been back in action overnight, this time in the Grand Prix Freestyle of the Reem Acra FEI World Cup Final for Dressage.
The pair was awarded a score of 69.821% which saw them finish in 15th position. 
Hanna was pleased with the test but was disappointed with her score.
"I wasn't that unhappy with the test, there were little things. There was one little mistake at the end of the one's which I don't normally make, I tried to do too many ones right into the corner, that was a silly decision. Otherwise he'd done them well, generally I was pretty happy with him," she said. Listen to Mary's full interview HERE.  
World No. 1, double-Olympic and European champion and the rider who holds all three world records in the sport, Charlotte Dujardin, became the first-ever Briton to win the Reem Acra FEI World Cup™ Dressage title at Lyon in France today. Read the full FEI report HERE
20 April 2014
Hanna finishes Grand Prix in 13th
Australia's Mary Hanna has scored 68.471% in the Grand Prix of the Reem Acra FEI World Cup Dressage Final, receiving a score of 71.400 from the judge at K -  FEI5* judge Eduard de Wolff van Westerrode of the Netherlands. The score saw Hanna and her Hannoverian gelding Sancette finish the event in 13th place.
It was the combination's first competition in Europe since arriving there in early March and the pair will be aiming to strenthen their performances ahead of the WEG selection events in July, which Hanna is aiming to be at.
Britain's Dressage superstars, Charlotte Dujardin and the brilliant gelding Valegro, set yet another new world record when scoring 87.129 to win today's Grand Prix at the Reem Acra FEI World Cup™ Dressage 2013/2014 Final in Lyon, France.  The British duo have blazed a trail through the sport over the last two years, setting world records in Grand Prix, Grand Prix Special and Freestyle while also scooping Olympic and European gold.  Today they re-set the Grand Prix world record target score again, and they now look well set to add the 2014 Reem Acra FEI World Cup™ Dressage title to their extraordinary list of achievements when the Freestyle takes place tomorrow afternoon.  
The Grand Prix start-list was reduced to 17 horse-and-rider combinations when Nanna Skodberg-Merrald's gelding, Millibar, did not pass reinspection first thing this morning.  But the class got off to a great start with a lovely test from the USA's Tina Konyot and Calecto V which set the tone for a day on which more Dressage history would be made.
Target score
The Netherlands' Edward Gal set the first strong target score when, fifth to go, he posted 80.029 with Glock's Undercover.  But it was clear this would be bettered as, despite spectacular piaffe and some great passage, the 13-year-old gelding showed a lot of tension. 
"Today was quite difficult, my horse was already excited in the warm-up, and in the arena he went a little better but he was still very tense.  Today though he was a little better than yesterday, so hopefully we will be better again tomorrow!" said the man who claimed the coveted title back in 2010.
Defending Reem Acra FEI World Cup™ Dressage champions, Germany's Helen Langehanenberg and Damon Hill NRW, then raised the bar even higher when following with a mark of 83.353 for an accurate but somewhat conservative test that was marked by an early halt at the very end.  "He was a bit excited on the centre line. It felt like he wanted to do passage and I thought - I don't know where this is going - so I decided to stop where I was!" the 31-year-old rider explained with a laugh afterwards.
Sweden's Tinne Vilhelmson-Silfven followed with one of those elegant performances that have long been her trademark with Don Auriello for a score of 75.086, and this would prove plenty good enough for fourth place at the end of the day.
Steal the limelight
Second-last to go it were Dujardin and Valegro who would steal all the limelight however as they cruised to victory with the greatest of ease. They never looked like they were working hard as they produced energetic passage and the smoothest of flying changes, their only mistake coming in piaffe. 
"I'm so lucky to have such a horse, wherever I go he wants to perform although I was worried about this big arena.  The first day here he was very, very hot and I thought he might be on edge today, but when he goes down the centre line he does his job so I can ride to near-maximum.  I wanted to enjoy it, Carl (Hester, her trainer and mentor) gave me my instructions and I had just one blip in the piaffe so I was very happy with him (Valegro)" said the 28-year-old who now has her sights set on tomorrow's deciding Freestyle competition.
She faces a significant challenge as she will be performing an entirely new arrangement of movements to a new musical score.  But she is relishing that challenge as she pointed out today.   
First time
"I'm pretty used to riding my music for the first time in a competition!" she said.  "I love my new floorplan, I think it's quite cool actually, and there's an interesting bit at the end so I hope I can pull it off.  Carl is quite pleased with it and I'm very excited to be doing it tomorrow" she added.
Breaking records is all in a day's work for the British rider who, although she said she was "speechless" when she found out she had raised the Grand Prix target score yet again, appears to be near to unstoppable and just about unflappable.   
She tried to make little of what she had achieved when interviewed at this evening's post-competition press conference. "I wasn't thinking about the score when I was in the arena, I just did my test and felt happy about it.  Carl was very happy which is always good, so when I heard it was a world record it was fantastic!" she pointed out.
Judge at C and today's Ground Jury President, Germany's Evi Eisenhardt, described today's class as "one of the best competiitons I have ever judged, with a great top line and a good midfield".  It all bodes well for a thrilling conclusion to the Reem Acra FEI World Cup™ Dressage Final 2013/2014 when the deciding Freestyle gets underway at 13.30 local time in Lyon (FRA) tomorrow afternoon.  
And no-one can discount the possibility of another world-record-breaking performance from Dujardin and her dancing horse.
The Reem Acra FEI World Cup™ Dressage Final takes place in Lyon (FRA) from 17-21 April 2014. For all information on the French fixture contact Press Officer Pascal Renauldon, Email [email protected], Tel +333 44 620 621.
Result: 1, Valegro (Charlotte Dujardin) GBR 87.129; 2, Damon Hill NRW (Helen Langehanenberg) GER 83.343; 3, Glock's Undercover (Edward Gal) NED 80.029; 4, Don Auriello (Tinne Vilhelmson-Silfven) SWE 75.086; 5, El Santo NRW (Isabell Werth) GER 74.186; 6, Glock's Johnson TN (Hans Peter Minderhoud) NED 73.771; 7, Kingsley Siro (Danielle Heijkoop) NED 72.857; 8, Unee BB (Jessica van Bredow-Werndl) GER 72.686.
Full result here 
19 April 2014
Hanna draws 11th in Grand Prix
Australia's representative in the Reem Acra FEI World Cup Dressage Final, Olympian Mary Hanna, will be 11th to go in a field of 18 following the overnight draw.
America's Tina Konyot will be first into the arena when the Final gets underway at the Eurexpo Arena in Lyon, France.
The Grand Prix is the first of the two competitions that will decide the 2013/2014 Reem Acra title, and while defending champions, Germany's Helen Langehanenberg and Damon Hill NRW, go seventh of the 18 starters, their greatest rivals Britain's Charlotte Dujardin and Valegro have a much better draw when second-last to go.
The draw was conducted by Lyon's Dressage manager Georg Fincke while Technical Delegate Maya Stukelj and Ground Jury President Jean Michel Roudier pulled the names and numbers out of the hat.  
Denmark's Nanna Skodberg Merrald is listed second for tomorrow's competition which will begin at 15.00 local time, but her 13-year-old gelding, Millibar, must first pass reinspection at 07.00 having been held over during today's first veterinary check. 
Challenge 
Despite holding the Olympic and European titles as well as all three world records in Grand Prix, Grand Prix Special and Freestyle, World No. 1 rider Dujardin still faces a significant challenge this weekend as she rides a brand new Freestyle test for the very first time on her Reem Acra FEI World Cup™ Final debut.  "This will be the first time for people to see it and we want to get it as good as we can and show Blueberry's (Valegro's) highlights and strengths.  It's a difficult task but it's a lovely piece (of music) and Carl (her trainer and mentor Carl Hester) loves it!" Dujardin said.  She decided that Olympia in London last December would be the last performance of the floorplan that brought her Olympic and European gold, but it has been hard work putting the new programme together.
Tom Hunt has created the new musical score. "Carl decided on the floorplan and I've been working with Tom on the music.  I've worked harder on this new piece and I've been phoning and emailing him every day to get it where I want it" Dujardin explained.
Langehanenberg meanwhile is staying cool as a cucumber about any threat to the title she secured last year.  Looking back on how things have gone for her since she lifted the Reem Acra title in Gothenburg last April, the German rider said today "I only had it in my hand that one time, but what a year it has been since then! Now every time I compete with Dami I go "wow that was perfect" and he just keeps coming up with better and better scores!" She said she is really looking forward to the competition getting underway.  "We are going to enjoy it and give our best, we can't force it - we will try to keep the lightness and we will be fighting every inch of the way!"
Gone to plan
Riders have gathered from all around the globe for this year's Final, and for Mary Hanna who travelled all the way from Australia it hasn't been the easiest of passages.  Because her 13-year-old gelding, Sancette, lost a shoe during his flight to Europe and stood on one of the nails which became embedded in his foot.  Fortunately Hanna's groom, Carol Newby, noticed it almost right away and with the nail withdrawn quickly there was no time for infection to set in.  
"But he was lame for almost two weeks after we arrived and it was a worrying time" the Australian rider explained.  Based with Sweden's Patrik Kittel in Germany during her European visit she has been working hard to get Sancette back in shape. "Fortunately he's fine now and going really well again" said Hanna who is drawn in 11th place tomorrow and whose goal this weekend is a personal best score.
Relishing the opportunity
The Netherlands' Edward Gal, FEI World Cup™ Dressage champion in 2010 with Totilas, will be sixth into the ring with Glock's Undercover and is relishing the opportunity to demonstrate the ever-increasing potential of this 13-year-old gelding who has really grown in confidence and capability in recent months.  "He just keeps getting better every time he competes and I just hope he does his job and continues to improve here again this weekend" said the Dutchman.
The fabulous line-up promises a fascinating few days of top sport.  FEI Director of Dressage, Trond Asmyr, said today "I'm convinced this will be the best Final we've ever had.  The level of sport is better than ever and we have all the best horses and riders here and ready to go!"
Order of Go
The order of go for the first leg of the Reem Acra FEI World Cup™ Dressage 2013/2014 Final, the Grand Prix which takes place tomorrow (Saturday 19 April) at 15.00 local time in Lyon, France is as follows:
1.    Tina Konyot / Calecto V (USA)
2.    Millibar / Nanna Skodberg Merrald (DEN)
3.    Smeyers Lazander / Marcela Krinke Susmelj (SUI)
4.    Inessa Merkulova / Mister X (RUS)
5.    Danielle Heijkoop / Kingsley Siro (NED)
6.    Edward Gal / Glock's Undercover (NED)
7.    Helen Langehanenberg / Damon Hill NRW (GER)
8.    Tinne Vilhelmson Silfven / Don Auriello (SWE)
9.    Isabell Werth / El Santo (GER)
10.    Marc Boblet / Noble Dream Concept Sol (FRA)
11.    Mary Hanna / Sancette (AUS)
12.    Elena Sidneva / Romeo Star (RUS)
13.    Hans Peter Minderhoud / Glock's Johnson TN (NED)
14.    Jessica von Bredow-Werndl / Unee BB (GER)
15.    Cesar Parra / Van the Man (USA)
16.    Dong Seon-Kim / Dibowski (KOR)
17.    Charlotte Dujardin / Valegro (GBR)
18.    Mikala Gundersen / My Lady (DEN)
14 April 2014
Hanna sets sights on Personal Best at Lyon
Four-time Olympian Mary Hanna this week takes to the world stage once more to contest the 2014 FEI World Cup Final for Dressage in Lyon, France.
The event has attracted 18 of the world's leading combinations, including Hanna, who is the sole Australian representative amongst the field having earned a start after winning the Pacific League World Cup Final at the December 2013 Saddleworld Dressage Festival.
With the world's best dressage combinations gathered, Hanna and her mount Sancette will be drawing on their experience from the London 2012 Olympic Games when competition gets underway.
"My goal is to do a personal best.  I cannot control what the other riders do, but hope to maximise my own performance. These past few days Sausage (Sancette) has given me a great feeling and is full of energy, so right now I am feeling very positive.
"I have a great team around me, and the atmosphere here with so many Australians is very supportive. The quality of the riding and the horses is outstanding which really pushes me to become better, and pay attention to every little detail to maximise my performance," Hanna said.  
Since arriving in Europe in early March, Hanna has been staying with fellow Australian dressage rider Lyndal Oatley and her husband Patrik Kittel, and with preparations not all going to plan, Hanna says the familiar faces have been a boost to morale. 
"The problem with him (Sancette) standing on a nail from his shoe on the plane really has affected my planned preparation.  Initially I intended to go to France to get in an outdoor competition before Lyon, however that was not to be and the hoof injury was a devastating blow.  However I have tried to make the most of it and as a consequence I have had more time to work with my trainer Patrik Kittel.
"Patrik's lessons have been really good and hopefully that will make up for our lack of ring practice.  
"Lyndal and Patrick have been great hosts and we have enjoyed getting to know Brianna Burgess and her family (Brianna is also based with Oatley). 
"It's really a very good "team Aussie" feeling happening here, which will hopefully lift me to achieve a best possible outcome."
A four time Olympian and three time World Equestrian Games representative, Hanna has the big competition experience to perform well at the World Cup Final.
"The World Cup has a huge atmosphere which cannot be replicated in any other event. In many ways it is more difficult than an Olympics, being fewer riders and an overall very high standard. With 18 of the best from around the World one cannot hide in the crowd. I trust Sancette however not to let me down and I treat it with the same importance as every other event. To me they are all important and I always put in maximum effort." 
The Reem Acra FEI World Cup™ Dressage Final will take place in Lyon (FRA) from 17-21 April 2014. FEI TV will broadcast the Final and results will be available from the event website.
The Longines FEI World Cup Final™ Jumping Final will take place concurrently and will feature Australia's Edwina Tops-Alexander who qualified through the western European League as well as Jamie Kermond who will make his debut at this prestigious international event after becoming the leading rider of the 2013/14 Australian League season.
More information on the event is available here: http://www.feiworldcupfinals-lyon.com/homepage