Heath makes it three from three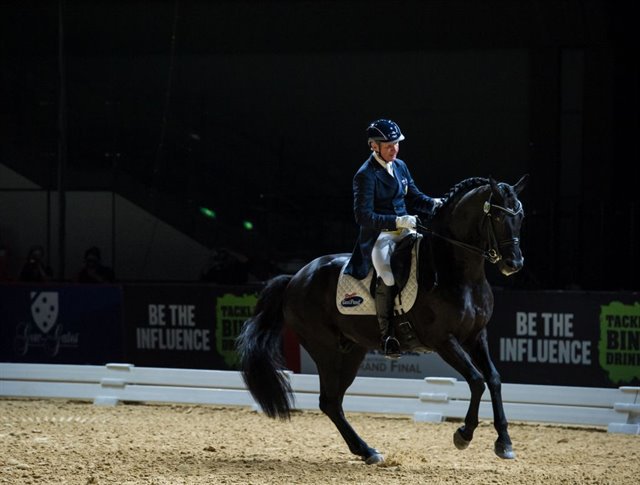 Heath Ryan and Regardez Moi
Photograph:Nicole Bartleet
The curtain has closed on the Be the Influence Equestrian Grand Final for another year but not before Heath Ryan and Regardez Moi were crowned dressage champions for a third successive year.
The duo continued their domination at this event with an impressive display in Saturday's Grand Prix Freestyle which brought 12 of Australia's top dressage combinations to the Dome Arena at Sydney Showground.
All eyes were on the Beijing Olympian and his striking black stallion to see if they could replicate their performance from the previous two years and enter the record books for a third time and they set the bar high early into the second stanza with a performance that was awarded a 72.60 from the judges.
It was a score that couldn't be topped, even by the reigning Australian dressage champion Sheridyn Ashwood and her mount Prestige VDL who were last to go in tonight's Final, ensuring a suspenseful finish to the 2013 competition.
Ashwood and her mount posted a strong score but they couldn't beat Ryan and Regardez Moi and their 72.25 saw them finish in second position.
Ryan was delighted to retain the crown and keep the title for another year.
"Sheridyn pushed us to the wire, I knew she was coming. We threw everything we had at it.
"The crowd is fantastic to come to watch us all perform. We love this, so we're going to keep going and going," he said.
Third place went to Queensland rider Jayden Brown and his squad horse Furst Friedrich who scored a 67.725 in their first Grand Prix Freestyle outing.
The Be the Influence Equestrian Grand Final for dressage capped off a spectacular two days of competition at EQUITANA Sydney which saw champions crowned in jumping and exhibition eventing. Sam Lyle was crowned the winner of the Exhibition Eventing title while Tim Clarke went home with the title in the Jumping.
Full results froma all three events are available at http://www.equitana.com.au