INSIGHT - FEI Vaulting Stewards Course
Equestrian Australia hosted an FEI Vaulting Stewards Course from 23-25 April 2015 in Sydney. The course, conducted by Frank Spadinger (AUT) was for promotion to FEI Level 1 and a refresher for existing FEI Level 1 and 2 Vaulting Stewards. The course was also open to Observers eg. Coaches and Event Organisers for professional development. 
Chief Steward for Vaulting, Jenny Scott 

was present and 

provided us with an insight into her time at this clinic ...
"Austria's Frank Spadinger, international Judge, coach and FEI Steward General for Vaulting worldwide, conducted an FEI stewards workshop in Sydney in late April. Frank worked with 3 new candidate stewards, 4 current stewards and 5 observers over 3 days to further develop and refresh the skills required of capable FEI vaulting stewards. If all candidates prove successful, Australia will have 3 FEI Level 1 and 4 FEI Level 2 stewards to assist FEI event organising committees and vaulting competitors to enjoy future FEI vaulting competitions.
Until now, Australia has had to request dispensation from the FEI to have fewer stewards than required by FEI rules. The increased complement of FEI stewards will now allow Australian organising committees to put in place a full team of Stewards at future FEI events. This achievement is one of the hallmarks of the sport of vaulting maturing in Australia as the number of dispensations requested starts to decline.  Given that there are  international vaulting events requiring qualification scores from competitors,  Australia must keep developing the necessary resources to conduct quality events to support the progression of future competitors onto the world vaulting stage. Observers attending the clinic were generally associated with event organising committees. By participating in this clinic they too gained valuable knowledge and experience regarding how to improve event management. Thanks to Frank once again for assisting Australia to further develop this wonderful equestrian discipline."
Jenny Scott, Chief Steward for Vaulting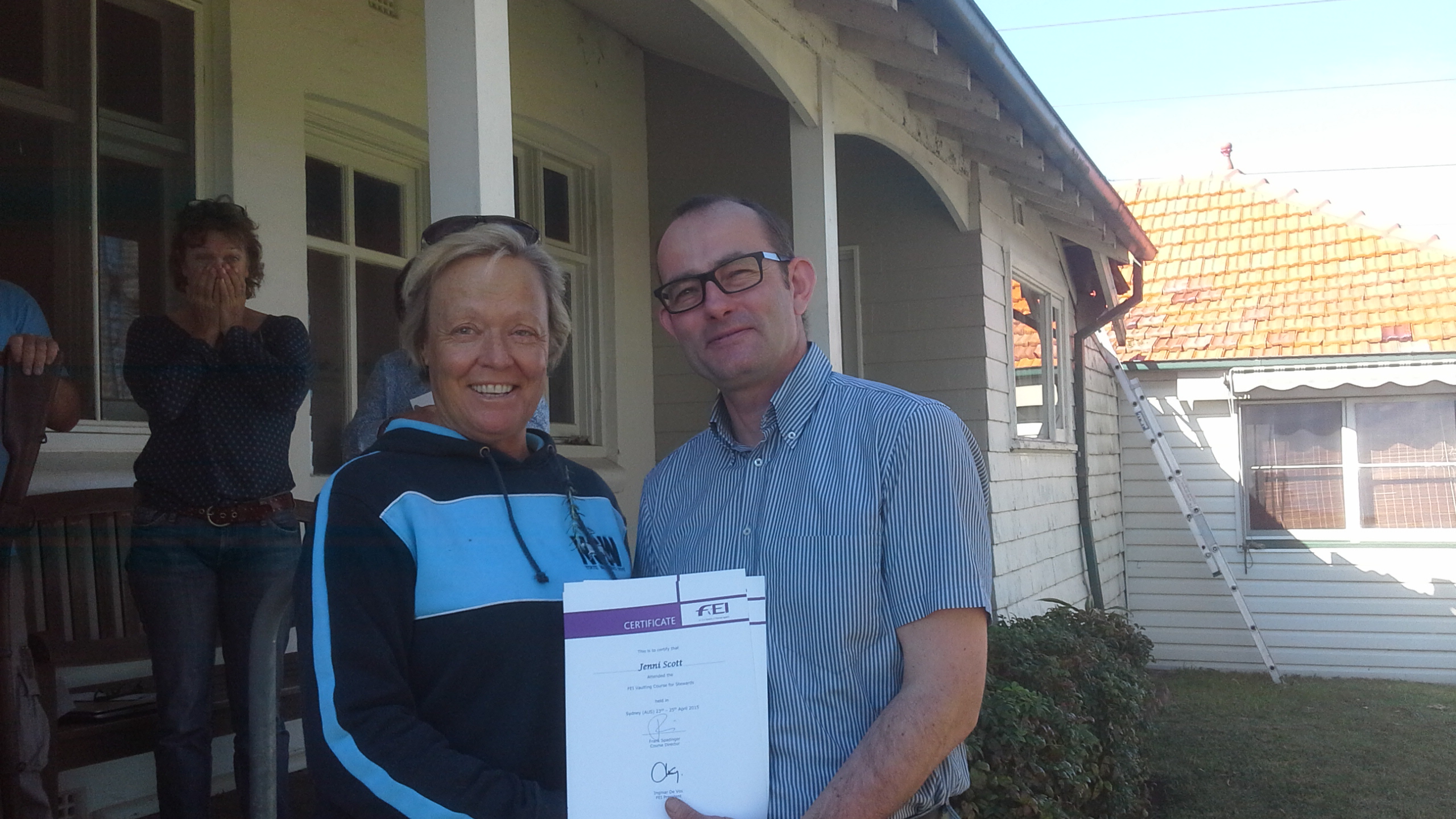 Frank Spadinger (Course Director from Austria) and Dr Jenny Scott, Chief Vaulting Steward.
To Read all the other INSIGHT stories Click HERE
Are you also an Equestrian Australia official who has recently officiated overseas? Are you interested in sharing your experiences with the greater equestrian community in our regular series? Click HERE to submit your story.