Photos courtesy of Ty Manning
Naracoorte Sees Record Number of Entries
The Barastoc Naracoorte Horse Trials took place this May this year.
The event, which started in 1975 as a junior 3DE, has now run consecutively for 47 years with the cross country always held at the same property, Strathyre, with the same landowners.
It continues to be the only event in the world with this record, and it is something Event Director Ashley Copping is extremely proud of, "we couldn't run in May 2020 so we postponed until November of that year to keep our record running. With so few events in South Australia, the riders were really pleased that we did."
These days the event is held at two venues: dressage and showjumping at the  Naracoorte Polocrosse ground, which is about 10km from Naracoorte at Hynam and cross country at Strathyre, where Wayne and Prue Copping design and build the seven cross country courses.
For 47 years, the CCI4* has been sponsored by IRT. Founding committee member John Paltridge worked for them, and IRT has continued their support in memoriam to him.
Sarah Clark and LV Balou Jeanz finished on an impressive 37.3 to win the class. Second place went to Sophie Fox and off the track thoroughbred (OTT) Mr Pig on 45.1 (who also won the Racing SA OTT prize), while Steph Hann finished third on 49 with another OTT, named True Celebre.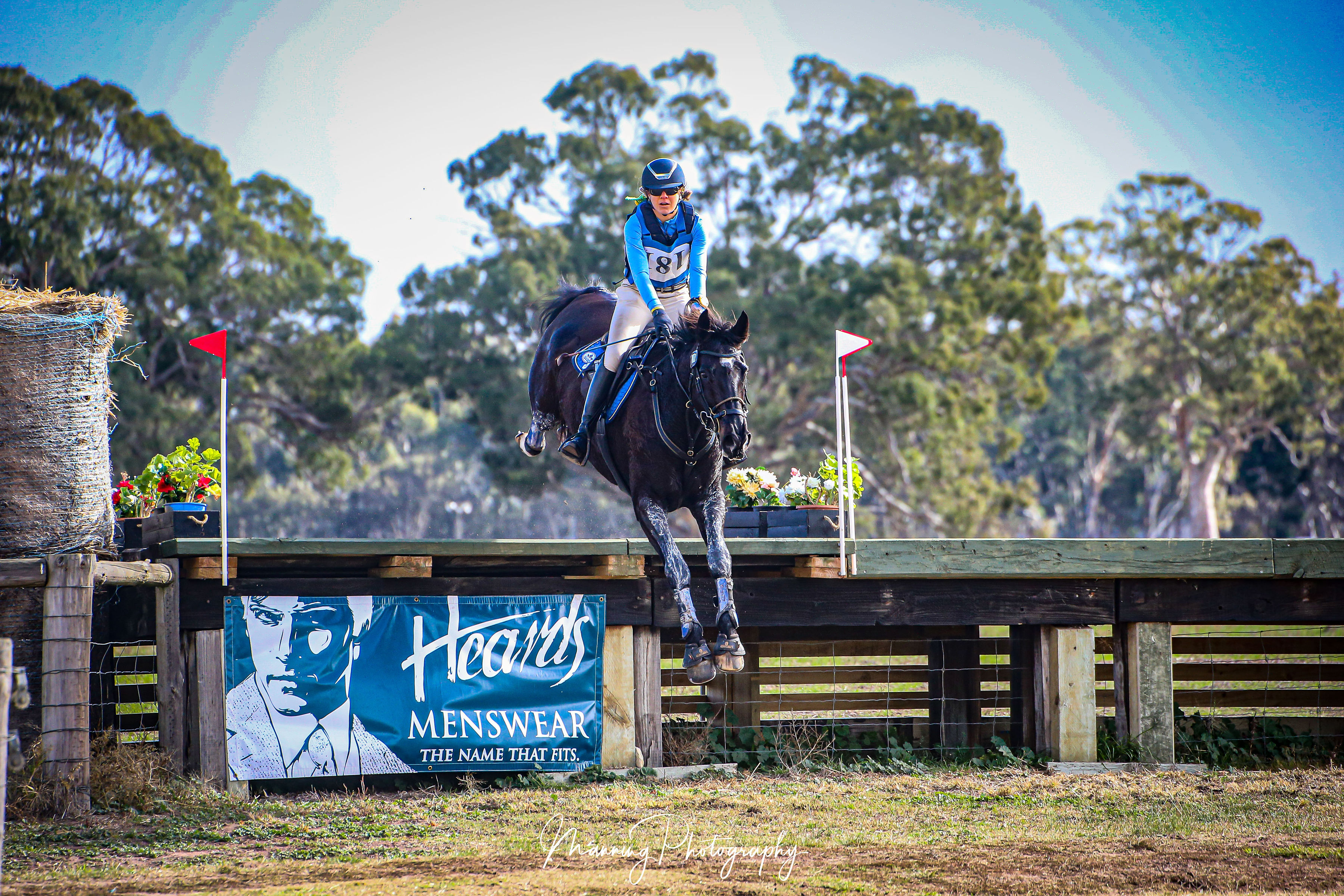 Sarah Clark and LV Balou Jeanz winners of the 4* class
The Kentucky Equine Research CCI3*-S saw Megan Jones finish first and second, with Guhr scoring 41.1 and Toulando scoring 42.8. Third place went to Wendy Schaeffer-McDonald riding Sun Quest (OTT), with a score of 73.5. Sun Quest also won the Racing SA OTT prize for this class.
Megan has been attending Naracoorte Horse Trials since she was 14 years old. "You simply don't get going like this at any other event in the country. I wish the committee could run it twice a year," said Megan.
First-time sponsors, Little Equine Co, made the journey from the Hills to have a trade stand at the event.
The Little Equine Co. CCI2*-S saw returning Victorian rider David Middleton and WEC In The Breeze scored 40 to take the win, ahead of Connie Miller and Delicato (OTT) on 51.2, and Jenny Bowker riding BMS Alexeah on 57.1. David even turned up to the prize-giving in his last NHT rug from 2005.
Strathyre owner Peter Stuart made sure he went and spoke to all riders who have been coming for a long time, including David, who he last saw here in 2006.
The Mini Jumbuk CCN1*-S went to Asha Warnock and Alhambra Calligraphy on a great score of 31.2, with Sarah Clark in second on 35.3 with Casallia A, and Jessica Hill in third on 39 with ESB Irish Illusion.
Mini Jumbuk has also been sponsoring the event for more than 40 years. "They look after our officials when they go into the shop, and previous winners always comment on the quality of the prizes received," said Ashley.
In the Evolution Animal Care Y/R CCN1*-S, Chelsea Clarke and Highfield Chiquita's Chico finished in first place on 33.2. Bella Masters and Samsonite were second on 43.2, while Jasmine Fordham and Burnbank Battalion were third on 48.5.
The Bull Bros EVA95 went to Isabel Houghton and Yoicks Baltimore (OTT) on 30.8; the McDonalds Naracoorte EVA80 (Div 1) went to Kaitlin Smith and Classico on 27.5; the Naracoorte Lucindale Council EVA80 (Div 2) went to Isabel Houghton and Yoicks Kimikain on 30; the Tyre Power Naracoorte EVA65 (Div 1) went to Keely Hutchinson and Mouse Detective on 24.7; and the Equestrian SA EVA65 (Div 2) went to Ella Manning and Viewmont Lisa on 27.8.
Event Director Ashley Copping was pleased with the record-setting 189 entries, which saw 40 more competitors than they've had any other year.
"I would like to thank the committee and volunteers for all their hard work; we had a fantastic team who made everything run seamlessly. I'd also like to thank our long-standing sponsors; IRT and Mini Jumbuk have been sponsoring the event since its inception 47 years ago!" said Ashley post-event.
Supplied by Naracoorte Horse Trials