One year Paralympic Games countdown begins
Australia's Para-Equestrian athletes are marking one year to go to the Rio 2016 Paralympic Games.
To celebrate, EA's recently announced High Performance squad athletes for Para-Equestrian appear in a special milestone poster and fans are encouraged to join the celebration by sharing the poster on their Facebook and Twitter pages.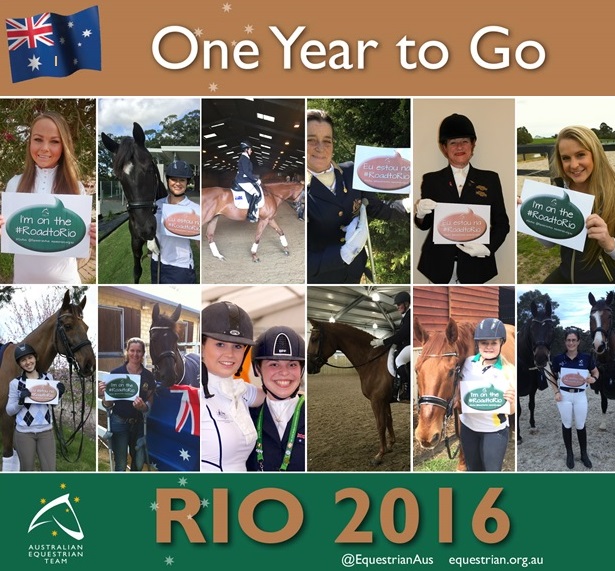 Within the poster many of the Rio hopefuls can be seen holding the sign "I'm on the #RoadtoRio" or in Portuguese "Eu estou na #RoadtoRio".  
Australia's Road to the Games requires it to be the highest ranked country of the Oceania region at the end of the qualification period (which concludes in early 2016). Australia will count its two strongest team scores obtained from either the Hartpury CPEDI3* (July 2015) or the Boneo Classic CPEDI3* of 2015 or 2016 towards qualification. Australia is aiming to qualify a team of four for Rio. 
You can keep in touch with our Olympic and Paralympic equestrian hopefuls and join in the one year to go celebrations by following Equestrian Australia on Facebook, Twitter and Instagram.  
#GoAus #WeBelieve #RoadtoRio #1yeartogo 
Australian Paralympic Committee Media Release 
Rio 2016 Olympic Games countdown