Para-Equestrian Elizabeth Sobecki named a finalist in the 2014 Channel Nine Young Achievers Awards.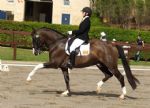 Lizzie's nomination in the sports category follows her selection to the Para-Equestrian Elite Squad for 2014.
In recent months Lizzie has been busy campaigning for a position on the 2014 World Equestrian Games (WEG) and following strong performances at the three observation events, the 22 year old is a strong chance for selection.
Leading into the WEG observation events Lizzie had to retire her mount Ponderosa Stud Lucarno (aka Charlie) after he sustained a fracture to his navicular bone, directly alongside a cist which strictly prevented him from being ridden. It seemed Lizzie's WEG campaign was over, which made the forced retirement of Charlie 'even more heartbreaking'. Within a month Lizzie's campaign was looking promising after being offered an Andalusian stallion called Hatero De PB (aka Harry), by fellow dressage rider Heather Currie. A quick partnership was formed with Lizzie and Harry named the Para-Equestrian Grade 3 champions at the second observation event at Boneo Park, "I am beyond excited to see how much more Harry and I develop in the future months, I keep forgetting that we have only been a partnership since December 2013," said Lizzie.
In 2012 and 2013 Lizzie was a semi - finalist for the same award, due to her success leading up to the London Paraympics where she was named the reserve team member for the Australian Para Equestrian Team. Fellow Para-Equestrian, Grace Bowman also won this award in 2011 following her number one ranking in Australia and number four world ranking.
The objective of the Channel 9 Young Achiever Awards is to acknowledge and encourage young athletes in South Australia. At the conclusion of the night one of the nine category winners will be announced the Channel 9 Premier's Young Achiever of the Year.