Ready Set Trot encourages horsing around in the playground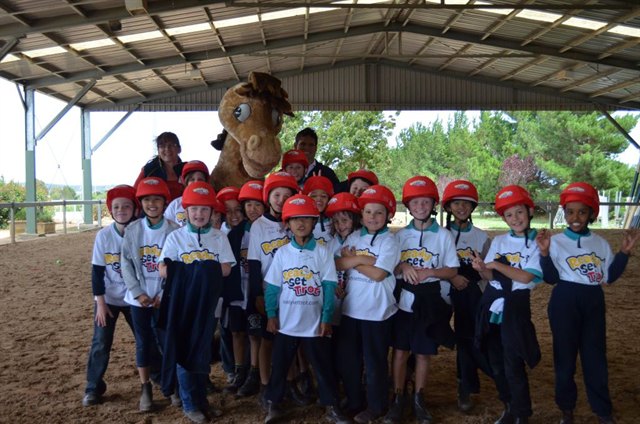 Ready Set Trot launches nationally in Canberra
The Federal Minister for Sport, the Honourable Kate Lundy and Ready Set Trot ambassador Shane Rose with Palmerston Primary School students.
Getting young people involved with horses just became a whole lot easier thanks to the new children's program Ready Set Trot, which was unveiled nationally on Friday 1 March.
Ready Set Trot is a joint initiative of Equestrian Australia (EA), Pony Club Australia (PCA) and the Australian Sports Commission (ASC) which aims to get more young people participating in equestrian sports and is designed to give young people more opportunity to have fun with horses whether it's at school or at a riding Club.
The Ready Set Trot schools' program is endorsed by the Australian Government's  Active After-school Communities (AASC) program* and will provide traditional playground games to schools with a horsey twist that will get young people active and excited about equestrian sports.  
An additional eight session program run by Equestrian Clubs, Pony Clubs and riding schools also features as part of the Ready Set Trot program and will allow young people to further their horse skills, knowledge and ability through mounted games and activities.
Palmerston Primary School students are among the first in Australia to take part in the new initiative and today they met the Federal Sports Minister, The Honourable Kate Lundy and Olympic silver medallist, event rider Shane Rose at the
Gooromon Park Riding School for a tour of the stables where many encountered a horse for the very first time. 
At today's session students learnt about a horse's features, were shown how to prepare a horse for riding and were given a demonstration of the different paces that a horse travels at.
Senator Lundy said the Ready Set Trot program would provide children - aged between five to 12-years – with participation pathways to get involved in equestrian sports.
"The Ready Set Trot program is designed to provide more children with an opportunity to learn about equestrian sports in a safe, fun and controlled environment," Senator Lundy said. 
"Equestrian is a wonderful sport, but there are some barriers to participation with the costs associated with caring for and maintain a horse. What's great about this program is that more children will be introduced to equestrian through games-based activities because you do not need to own a horse to take part.
"Ready Set Trot is a great initiative providing participation pathways for young students to follow in the footsteps of Australia's elite riders like Shane Rose, who started riding at the age of five and went on to fulfil his Olympic dream and win a silver medal at the Beijing Games."
With an Olympic silver medal and a host of other international accomplishments to his name, Shane Rose is one of the world's best event riders but growing up  it was on the rugby field where he thought his future may rest. Rose had dreams of playing for the Wallabies but he couldn't ignore his passion for horses which developed through Pony Club so when he finished high school Rose decided to pursue a career in eventing.
 "I was a long-time member of Pony Club and it was there I found my love of riding and learned the basic principles of horsemanship.
"Ready Set Trot gives young people a taste of our sport and hopefully they will enjoy the experience and continue with riding lessons or go on to join their local equestrian or pony club once they've completed the program.
"The program is a great way to get more young people experiencing equestrian. I hope it inspires a new generation of young riders to take up the reins," Rose said.  
Participants can sign up to the Ready Set Trot program via the dedicated website www.readysettrot.com.  
Schools can also register to be part of the program via the website where they can access free downloadable materials. Riding schools, equestrian clubs and pony clubs looking to be involved should also visit the website.