Kirsty Pasto
Simone Pearce and Destano's Date with Destiny at CHIO Aachen 2021
Australian dressage sensation Simone Pearce and her black stallion Destano, owned by Gestüt Sprehe, finished second in the CDI5* Grand Prix Special, the MEGGLE Prize, at CHIO Aachen in Germany.
The CHIO Aachen World Equestrian Festival, considered by many to be the pinnacle event of the competition calendar, is one of the most prestigious annual shows in the world. Each year the event draws hundreds of riders from all over the globe, who descend upon the German city to battle for a podium placing.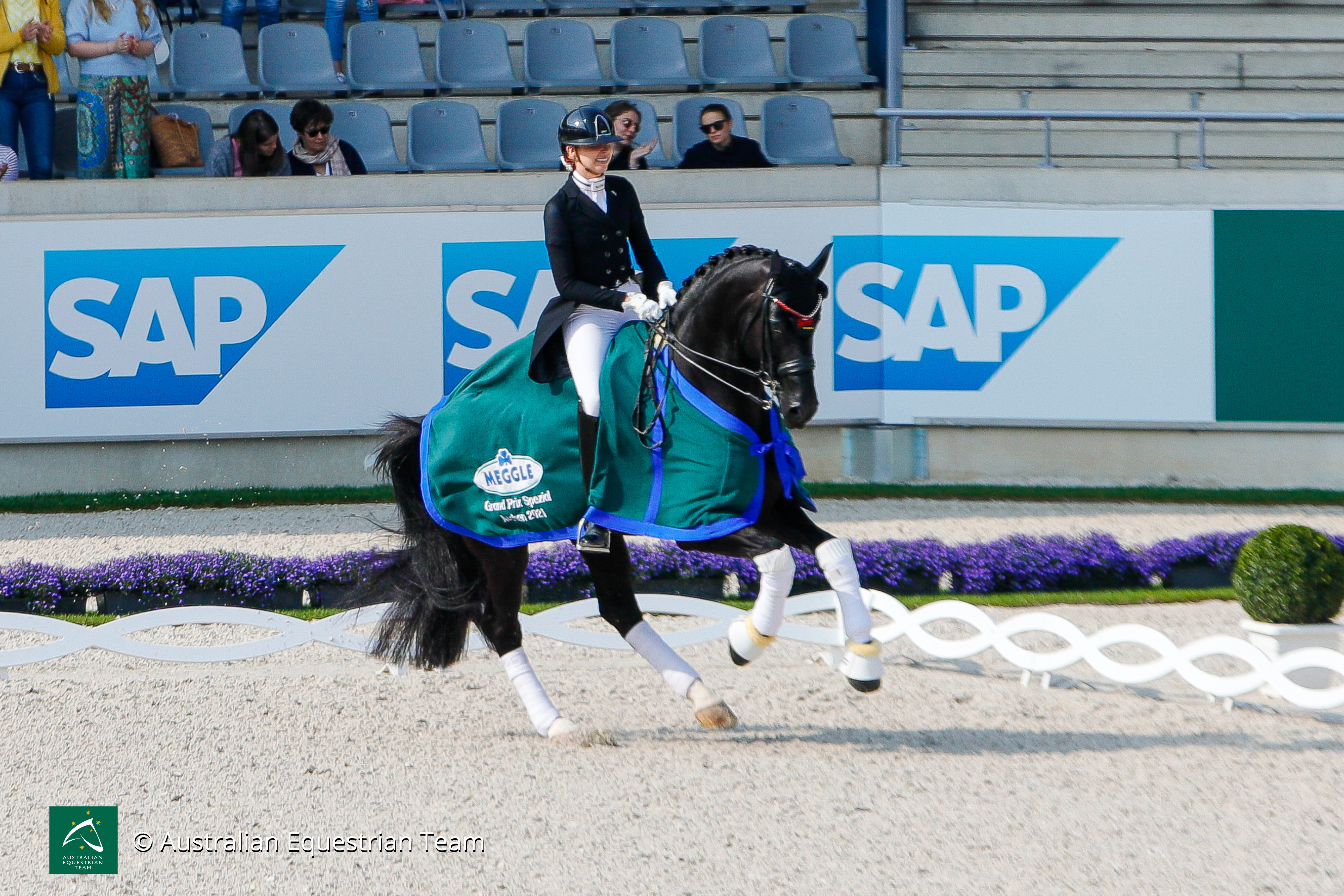 Simone and Destano, photo credit: Australian Equestrian Team / Kirsty Pasto
Simone and Destano delivered a stunning performance in the Deutsche Bank Stadium that had the audience on their feet cheering as a score of 73.426% appeared on the board.
The overall score for the pair was less than 0.1% behind world number one rider, Olympic Gold medallist and European champion, Jessica von Bredow-Werndl, who finished in first place.
"I was really, really happy with Destano on Saturday he gave me a great feeling and I think I also give him a good feeling. We just felt like we were back together and back as a harmonious couple," said Simone.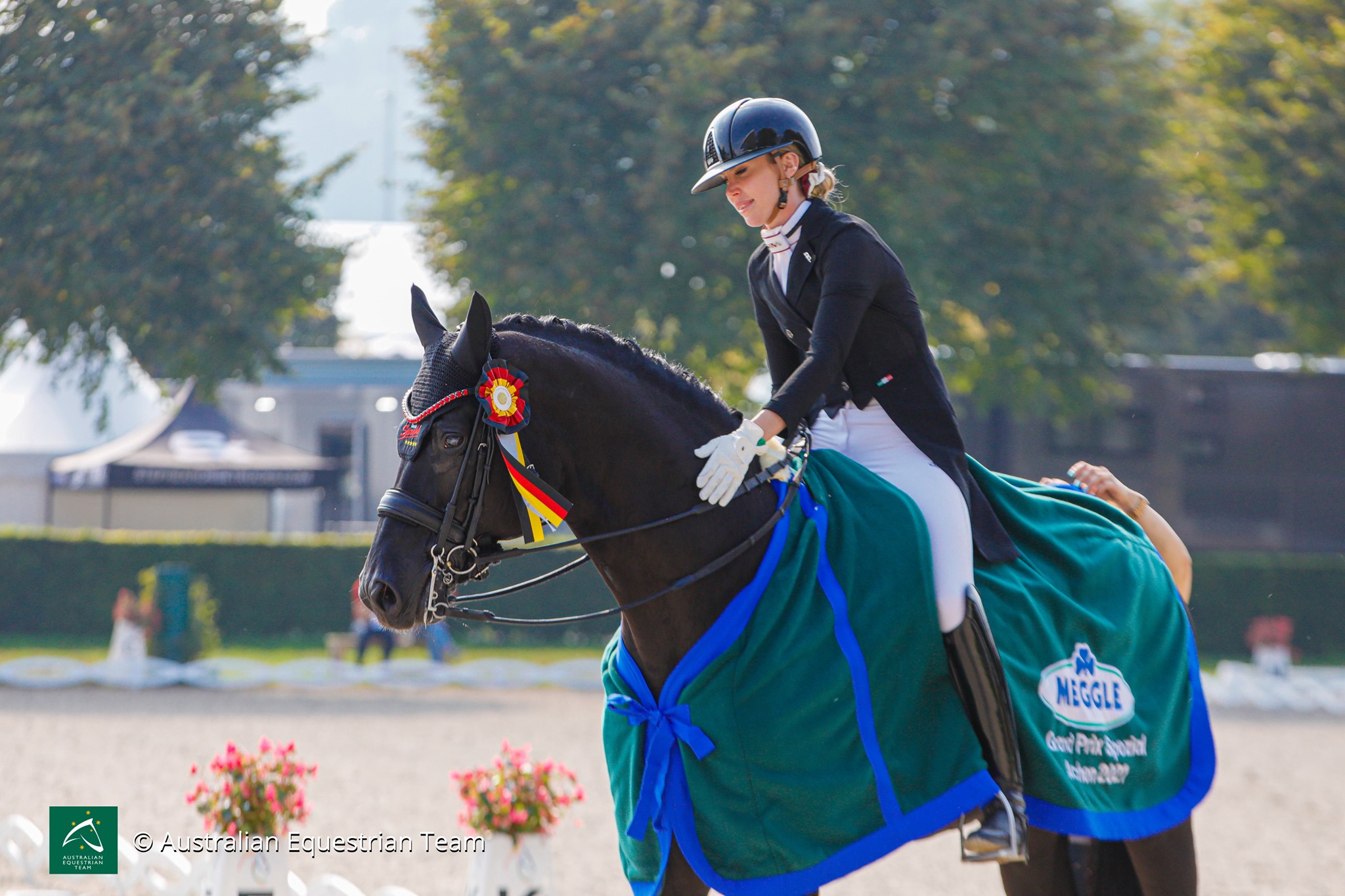 Simone and Destano, photo credit: Australian Equestrian Team / Kirsty Pasto
The fact that this is Simone and Destano's first CDI5* competition, as well as their first CHIO Aachen experience, makes their second-place finish even more noteworthy, giving the pair a confidence boost following the Tokyo 2020 Olympic Games.
"The Olympics was of course not our usual standard and it for sure made me lose a little bit of confidence, so on the first day (Grand Prix) I rode a little bit quietly but on Saturday I just felt really comfortable and back 100% with my mindset and with my connection to Destano, and we felt really good."
Destano, a picture perfect black stallion, has garnered fans all over the world, but none more so than in Australia, where his performances with Simone over the past two years have rocketed the duo to "Australian Dressage Stardom."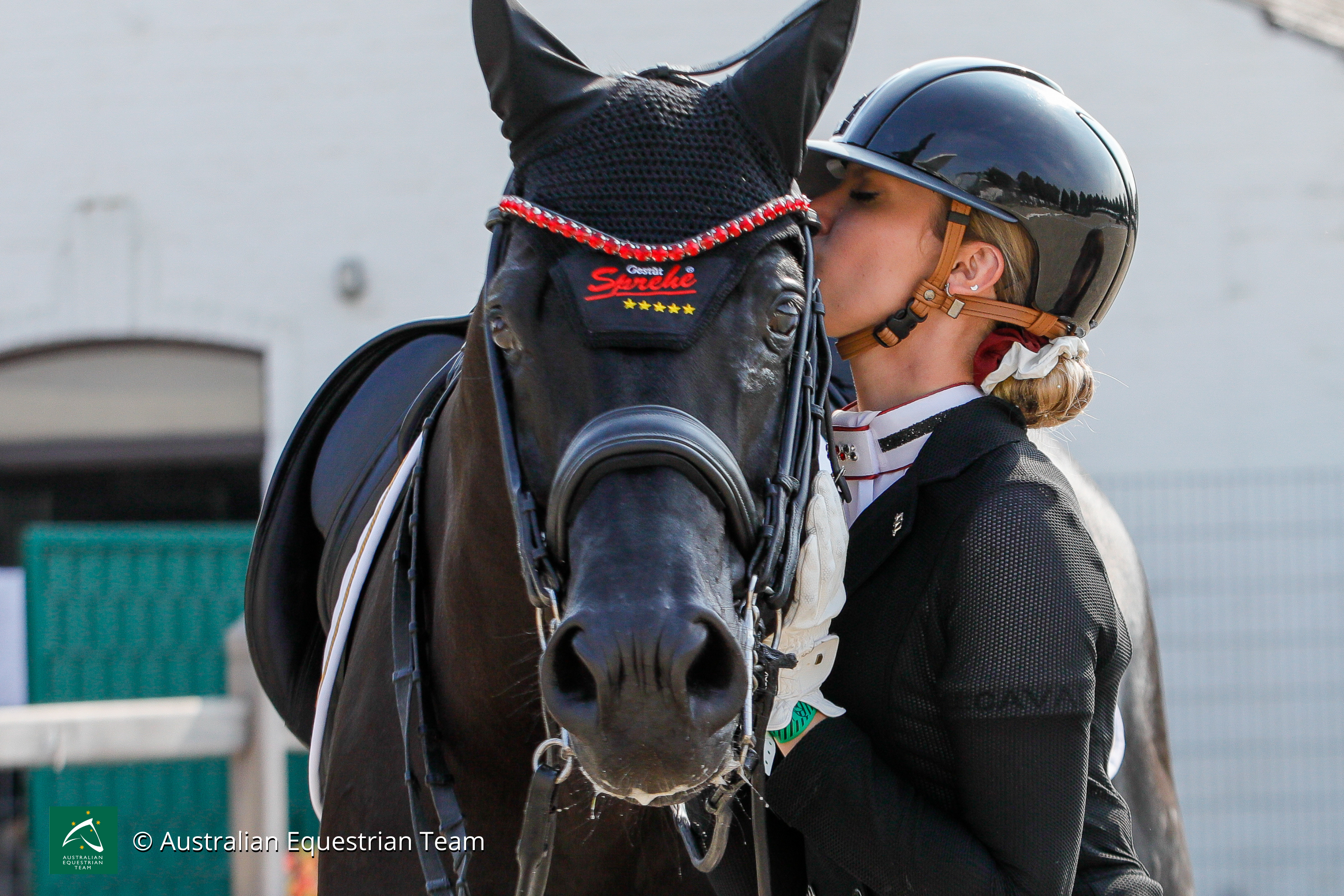 Simone and Destano, photo credit: Australian Equestrian Team / Kirsty Pasto
Hanoverian-bred Destano, is by Kristina Bröring-Sprehe's Desperados, who also celebrated many victories at CHIO Aachen throughout his career. Destano appears to be following in his father's hoofprints, performing beautifully during the competition in Germany. 
There is no limit to what Simone and Destano may achieve in the future as their special partnership continues to reach new heights, and with the World Equestrian Games less than a year away, Simone is determined to keep the momentum going.
"It was a fantastic experience and I am really proud of him and really excited to look to the future and to keep pushing those performances forward to WEG (World Equestrian Games) next year."