Photos courtesy of Equestrian SA
VOLUNTEER OF THE MONTH Karen Rose
VOLUNTEER OF THE MONTH is a regular series on our website.
It is a way of highlighting the tireless Equestrian Australia volunteers from across all disciplines, who help keep our sport running smoothly, all over Australia.
This month we say THANK YOU to Karen Rose, of Equestrian South Australia. Thanks Karen!
Karen Rose is an active member of the Eventing community. She's on the Eventing SA Discipline Committee and is the Australian International 3DE Minute Secretary & Assistant Secretary.
Karen has first served on the Onkaparinga Pony Club committee, then on the ESA Interschools committee, travelling with her daughter, Emma Rose, to Interschools at Sydney 2013  and at Toowoomba 2014.
She teams with husband Dugald at the Start Box at all the local One Day Events – Canoe Tree, Kirkcaldy, Reynella, Lockington, Hills & Barossa & Monarto. This is something they've both been doing every year since they first became involved in Eventing with Emma, progressing through Interschools to ESA events.
The starters role requires concentration and organisation throughout the entire day of cross country and is a most important, quite taxing role that both Karen & Dugald have become committed to performing at all local SA events, which is highly appreciated by Organising Committees and by competitors.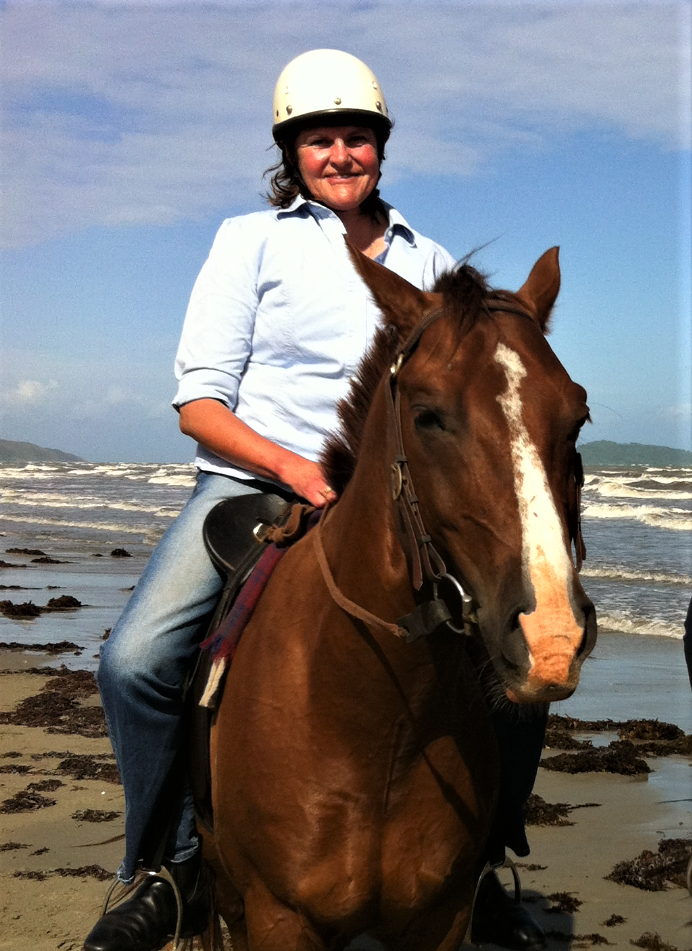 Happy hacker, out riding at the beach with her girls
Karen was invited to join the State Discipline Eventing Committee as a co-opted member in 2017 and elected on as a full member at the AGM of 2018. She has been a very valuable, unbiased (no Conflicts of Interest), logical and organised person to contribute to the Discipline Committee and to the Sport in general.
As the Secretary of the Discipline Committee, Karen is also responsible for looking after the Event Box, which is hired out to the SA event OC's. She checks it after events and replaces used items, jump judge scoring sheets, and recharging radio batteries. 
Karen has undertaken the organisation of catering for the Gillian Rolton Youth Development Scholarship weekend, held annually by the Eventing SA committee for their top ten Young Riders/ Juniors, and has been a reliable organiser/caterer for the past three years.
Since Emma stopped riding competitively to study Medicine, rather than retiring, Karen has expanded her role in Equestrian Sports by joining both the Aus3de Sports committee and the National Eventing Discipline Committee.
"We believe that Karen fulfils her major volunteering roles to such a standard as to be a worthy recipient of the EA Volunteer of the Month Award from Equestrian Australia," said Di Schaeffer, Chair of Eventing SA.
Karen has been involved with the Aus3de since its inception in Adelaide Parklands in 1997. 
Initially, she helped out as a volunteer on the PR side, answering questions in the Secretary and general public information area. Karen then did one of the first EA Steward's Courses and worked as a steward for the next few years.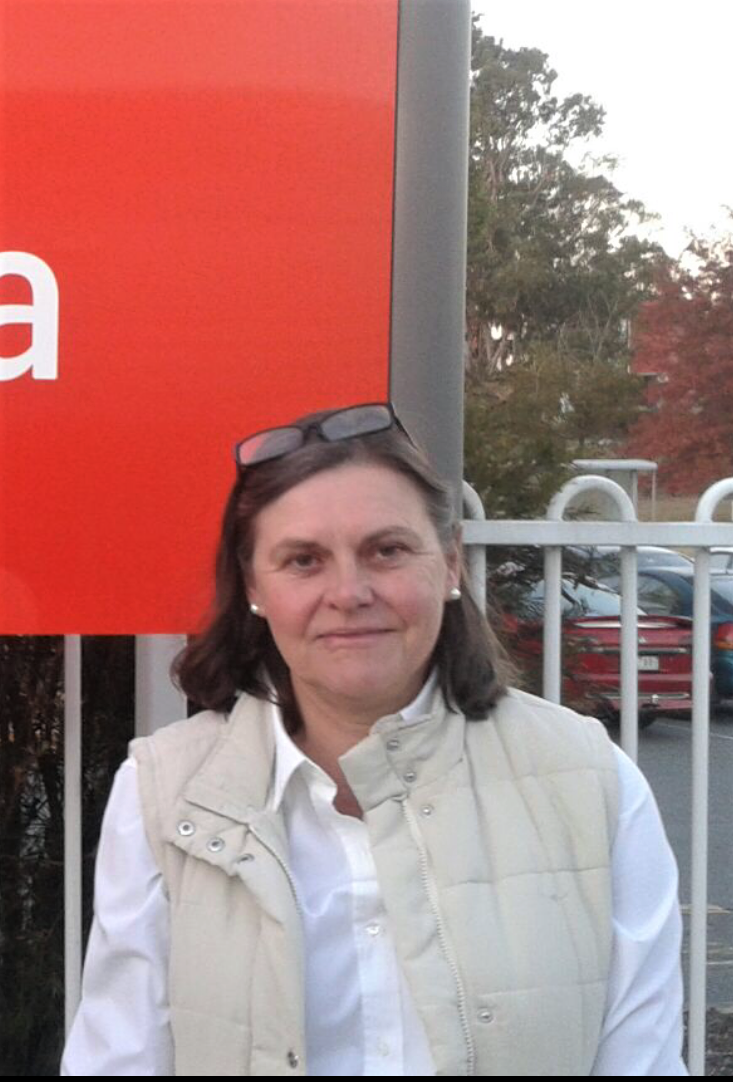 Karen officiating at the Aus3de
Karen went onto volunteering at the Start Box with her husband, Dugald, as they were already doing that important job at all local SA Events. She then transferred to a role in Control, during Cross Country day, which she has now been doing for the past 6 years and ongoing - Karen was deemed to be very necessary to interpret her husband's broad Scottish accent for Control!
Karen joined the Aus3de Competition Management committee in 2015, where she took on the role as Assistant Secretary AIHT3DE at the Event to Andrea Goddard and became Minute Secretary at meetings of the Competition Committee, both of which she still does.
Quietly efficient and well organised, Karen just gets purposefully on with the job required, with a minimum of fuss. A good, solid, hard-working committee member, Karen can be relied on to manage many aspects involved in running and managing such a high profile International Event at FEI 5* level.
She is a very valued member of the Team that runs the Secretary's Office of Aus3de at the event site in Victoria Park all week, all day, every day!
Thank you Karen for being a member of this wonderful army of volunteers that contribute so much to our sport.
VIEW ALL THE PREVIOUS STORIES ...