Photo supplied by Dressage Western Australia
VOLUNTEER OF THE MONTH Leanne Pitcher
VOLUNTEER OF THE MONTH is a regular series on our website.
It is a way of highlighting the tireless Equestrian Australia volunteers from across all disciplines, who help keep our sport running smoothly, all over Australia.
This month we say THANK YOU to Leanne Pitcher, of Equestrian Western Australia. Thanks Leanne!
Leanne is heavily involved with Dressage Western Australia. She is a dedicated committee member, who has taken on the role of Club Liaison Representative and Pony Dressage Rep.
Leanne is always keen to explore ways to encourage and grow dressage from the ground up, which is why she was instrumental in introducing the new Grass Roots Dressage Championships for Participant and Adult rider members in WA.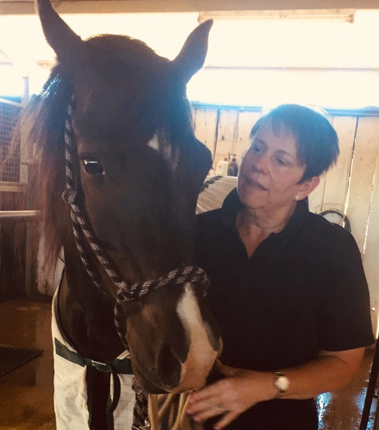 "Leanne is hands-on at every major Dressage event that DWA is part of and puts in countless hours helping in any area required," shares Tracy Spackman of DWA.
Leanne joined the DWA committee in late 2017 to help with the website and Facebook, but in 2018 she took on the role of Pony Dressage rep because she wanted to ensure WA ponies and their riders were afforded the same opportunities and recognition in all levels of competition.
​
Leanne has competed to novice level in pony dressage and earlier this year she joined the new Working Equitation club at Brookleigh, which was really enjoyable and added some variety and challenge to her riding. Outside the arena, she loves trail riding and 'horsey' holidays with her friends.
Thank you Leanne for being a member of this wonderful army of volunteers that contribute so much to our sport.
VIEW ALL THE PREVIOUS STORIES ...