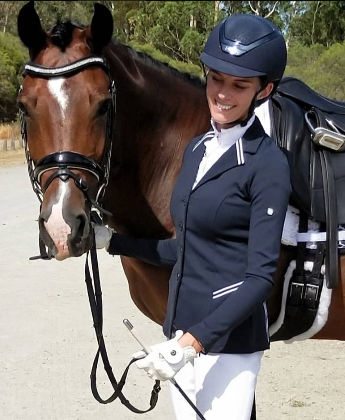 VOLUNTEER OF THE MONTH Tracey Strommer
VOLUNTEER OF THE MONTH is a regular series on our website.
It is a way of highlighting the tireless Equestrian Australia volunteers from across all disciplines, who help keep our sport running smoothly, all over Australia.
This month we say THANK YOU to Tracey Strommer, of Equestrian Western Australia. Thanks Tracey! 
Tracey Strommer has been riding since before she can remember. Her background is in Show Horse, but she moved to Dressage four years ago with her current steed Jeffrey (Valcartier) who is about to start at Medium. She also has a young warmblood, BML J'Adore, who is about to make her Dressage debut.
Outside of riding, Tracey works full-time at Rio Tinto as a Procurement Superintendent in Perth CBD. In her 'spare time' Tracey contributes to Dresssage Western Australia (DWA) by editing and compiling the fabulous DWA newsletter, along with Jamie Bawden.
Thank you Tracey for being a member of this wonderful army of volunteers that contribute so much to our sport.
VIEW ALL THE PREVIOUS STORIES ...