Photo credit: Libby Law
Emma Olsson Groom for Boyd Exell Nominated for Cavalor FEI Best Groom 2022
The nominations for the FEI Awards 2022 are as impressive as ever.

The 20 shortlisted candidates from 15 countries include World Champions, highly accomplished up-and-coming young athletes, grooms, inspirational equestrians, judges and charities.

Once again, this year the FEI received hugely diverse nominations from all over the globe, highlighting individuals and organisations going above and beyond in their dedication to equestrian sports and horse welfare. The ultimate accolades will go to the winners at the FEI Awards Gala presented by Longines on 13 November in Cape Town (RSA).

Of course, behind every great athlete, there are incredible grooms, and this year's nominations for the Cavalor FEI Best Groom Award reflect that unfailing determination and commitment which characterises the sport's often most valued yet unsung heroes. Representing four different nationalities and disciplines, four highly respected and experienced grooms who work with some of the top equestrian athletes in the world, have been shortlisted this year.
Included in those nominated for the Cavalor FEI Best Groom Award is Emma Olsson groom for Australian Driver, and current FEI World Champion, Boyd Exell.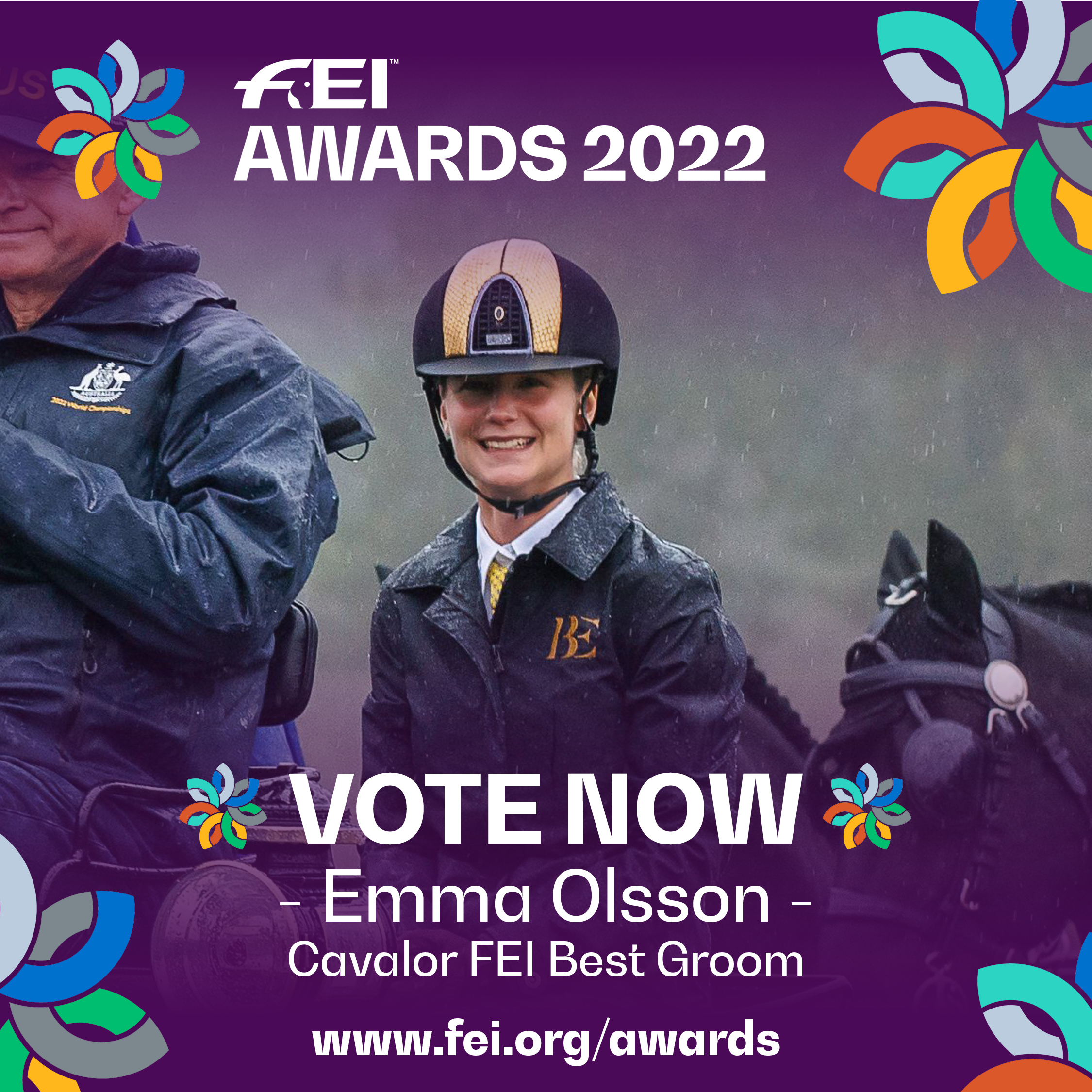 The shortlisted nominees have been selected for their outstanding achievements on the field of play, inspirational outlook and unparalleled dedication to equestrian sport.

The amazing stories of all the nominees in the five categories can be found here. Further details about Emma Olsson and her time with Boyd Exell can also be found below.

The voting has now closed and we wish Emma the best of luck ahead of the winners announcement in November.

The shortlisted nominees for the FEI Awards 2022 are:

Peden Bloodstock FEI Best Athlete - paying tribute to the athlete who over the past year has demonstrated exceptional skill and taken the sport to a new level.

·    Charlotte Fry (GBR) – Dressage
·    Lambert Leclezio (FRA) – Vaulting
·    Sanne Voets (NED) – Para Dressage
·    Henrik von Eckermann (SWE) – Jumping

Longines FEI Rising Star – for the athlete aged 14 to 21 who demonstrates outstanding sporting talent and commitment.

·    Alice Casburn (GBR) – Eventing
·    James Derwin (IRL) – Jumping
·    Sam Dos Santos (NED) – Vaulting 
·    Karla Dyhm-Junge (DEN) – Para Dressage

Cavalor FEI Best Groom - for the behind-the-scenes hero who ensures the horses they look after are given the best possible care.

·    Kerryn Edmans (NZL) - Eventing groom for Tim & Jonelle Price 
·    Emma Olsson (SWE) - Driving groom for Boyd Exell 
·    Sue Schlegel (USA) - Jumping groom for Elizabeth Madden 
·    Lars Seefeld (GER) - Dressage groom for Daniel Bachmann Andersen 

FEI Against All Odds - for an inspiring individual who has pursued their equestrian ambitions and overcome challenges and obstacles along the way.

·    Trevor Harrison (NZL) – Former jockey
·    Estiven Palacio Hernandez (COL) - Vaulting
·    Muthoni Kimani (KEN) - Jumping
·    Mia Rodier-Dawallo (USA) - Para Dressage

FEI Solidarity - for an FEI Solidarity or equestrian development project, an individual or organisation that has used skill, dedication and energy to expand the sport.

·    Zuzana Baciak Masarykova (SVK)
·    Horse Charity Barbados (BAR)
·    The Big Food Ride (SWZ)
·    The Dressage SA Solidarity Stars Project (RSA)
·    
The winners will be decided by combining 50% of the public's vote and 50% of the judges' vote for the final result. The nine expert judges for this year's FEI Awards are:

·    Ingmar De Vos (BEL), FEI President
·    Matthieu Baumgartner (SUI), Longines Vice President of Marketing
·    Peter Bollen (BEL), Founder and chief nutritionist of Cavalor
·    Martin Atock (IRL), Managing Director of Peden Bloodstock
·    Amanda Bond (GBR), Head of Equestrian Affairs at The Hong Kong Jockey Club
·    Luiz Roberto Giugni (BRA), FEI Board Member and Chairman of Group VI
·    Michelle Wang Qiang (CHN), Founder and CEO of Equuleus Corp.
·    Professor Natalie Waran (NZL), BSc (Hons), PhD (Cantab) International equine behaviour and welfare scientist
·    Sharlene Venter (RSA), Secretary General of the South African Equestrian Federation
ABOUT EMMA OLSSON
Emma started working for Boyd in early 2015 after attending one of his clinics in Flyinge (SWE) and has been part of his team winning individual gold at the three world championships held since.

Emma has been a key component in the growth and success of XL Equestrian since moving to The Netherlands. Emma has always shown her love for the sport and dedication to carriage driving, pushing to drive horses outside of her working hours and now competes for Team Sweden.

Emma has an acute attention to detail, and photographic memory which has proved invaluable in her work with the yard and the competitions. On top of caring for the horses making sure they perform their best Emma also has an important role on the carriage for all three phases.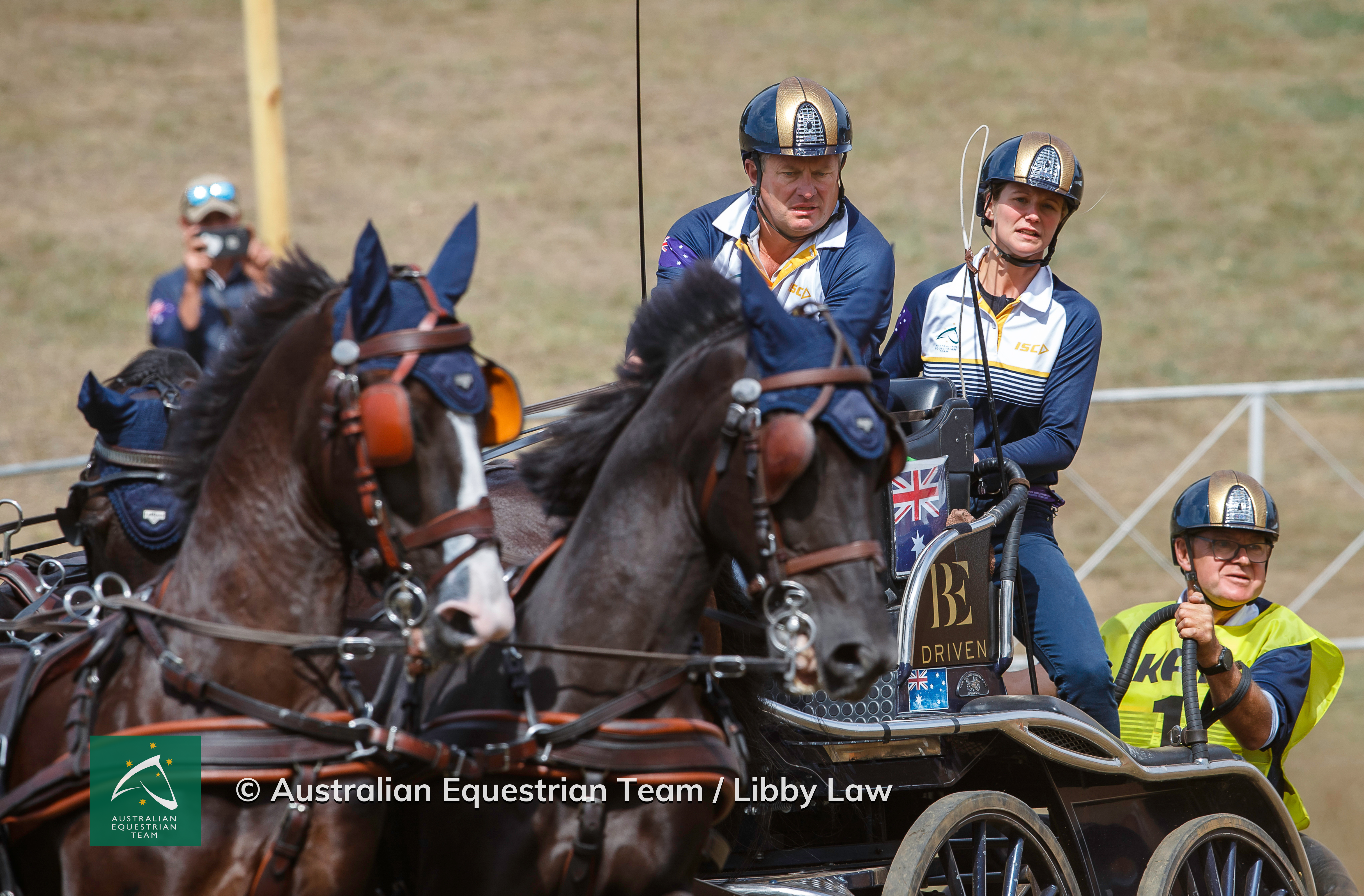 Emma Olsson, Boyd Exell and Hugh Scott-Barrett (backstep) during the Marathon phase at the 2022 FEI World Championships, Pratoni. 

Emma is responsible for the core teams of competition horses on the yard, essentially 20 horses, along with the young horses coming through. Taking care of so many different individual horses has its challenges but in return, it has taught her a great deal. According to those supporting her nomination, Emma has a bond with all the horses and sees to their individual needs, whether from a veterinary perspective, or any other grooming need, she has it all under control.