Queensland's Ashwood takes the Grand Prix treble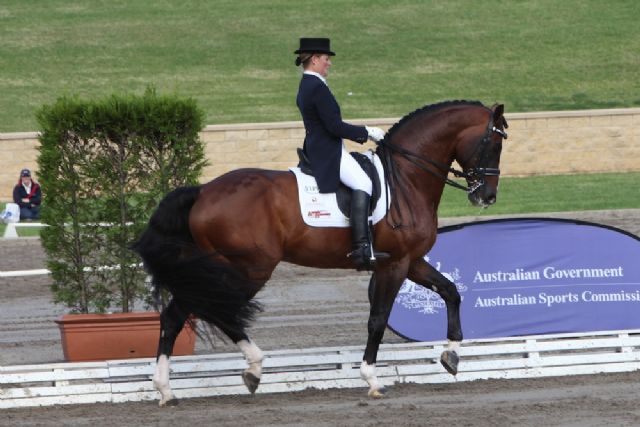 Sheridyn Ashwood continued her winning streak at the Sydney CDI winning the Grand Prix Freestyle in front of a capacity audience. Her win at tonight's event concludes a dream run for the Queensland based rider who leaves the event with the Grand Prix treble.
In taking victory Ashwood and her mount, the 16 year old stallion Prestige VDL, toppled a class field which included Rozzie Ryan and GV Bullwinkle who was sixth to go in the field of 16 and set the bar high when they scored 71.13 per cent for which they received a roaring cheer from the enthusiastic crowd.
Third last to go, Ashwood knew the score she needed to achieve in order to take the lead and armed with a more difficult routine which she changed following her earlier success at this event, she left the arena to loud applause and a score of 73.98.
Ashwood still had to wait for three time winner of this event Heath Ryan and Regardez Moi and Caroline Wagner and Tango V to complete their tests before learning where she would finish the event.
Heath's score of 71.20 was just enough to creep in ahead of his wife Rozzie but not enough to take the lead from Ashwood.
"I'm riding a very, very special horse, he's wonderful. I'm lucky to ride such a special animal as this," Sheridan said.
The Sydney CDI Grand Prix Freestyle brings an end to the 21st annual Sydney CDI. It is also the second of four qualifiers to the Be the Influence: Equestrian Grand Final. The 12 combinations with the highest Grand Prix Freestlye scores from the four qualifying events will automatically qualify for the Final which will be held at EQUITANA, Sydney from 7-10 November 2013. Combinations must also post a score greater than 64 per cent in order to be eligible for the Final
3 May 2013
Sheridyn Ashwood wins again
Following her victory in Thursday's Sydney CDI Grand Prix, Sheridyn Ashwood said she and her stallion Prestige VDL would only get better as the competition progressed. And she was right.
Ashwood's prediction came true at today's Australian Sports Commission Grand Prix Special where together with the 16 year old bay stallion she took out the title with a super performance which blitzed the field.
The Queensland based rider and her mount scored a personal best 70.37 and were the only duo to score over 70 per cent.  The next best placed combination was Rozzie Ryan and GV Bullwinkle who scored 66.72.
 Ashwood is delighted to win but even more thrilled to achieve a mark with a seven in front of it.
"I was in shock, I rode the horse down to the stables and the girls came in running and cheering. Then they told me I'd scored over 70 per cent and I was so excited."
"The score is what matters most. The test I did just then was good, but there's so much more that I can do. I come out of the test and I'm happy but I know I still have a few things to work on," she said.
Saturday's Grand Prix Freestyle is expected to attract a capacity crowd and all eyes will be on Ashwood to see if she can achieve a clean sweep.
"We're actually going to change my freestyle, we're going to make it more difficult and more spectacular," she said.
In the minor placings Victoria's Caroline Wagner (Tango V) finished in third place to split husband and wife duo Heath and Rozzie Ryan. Rozzie and GV Bullwinkle took out second while Heath and Regardez Moi ended the day in fourth.
Final day action gets underway at 9am with the CDI Grand Prix Freestyle beginning at 8:15pm. Prior to the evening session at 7pm there will also be a special appearance by London Paralympic gold medallist Joann Formosa and London Olympian Lyndal Oatley.
2 May 2013
Maiden victory for Sheridyn Ashwood
Sheridyn Ashwood is hoping her victory in today's Sydney CDI Grand Prix sets the tone for the remaining two days of competition.
On her way to victory, Ashwood and her 16 year old stallion Prestige VDL defeated a top calibre field which included Olympian Heath Ryan (Regardez Moi), his wife Rozzie (GV Bullwinkle) and David Shoobridge (OO Sven).
The combination were awarded a score 68.85%.
"I've been the bridesmaid for the last four shows and I've always been so close but before today it just seemed so far away.
"I'm really excited with how the horse is developing, he's still continuing to improve. Every time we bring him out he's just that little bit better," Sheridyn said.
It is Ashwood's first big victory at a CDI and the Queensland rider is full of confidence leading into Friday's Grand Prix Special.
"I always ride better on the second and third day. I don't do any warm-up events, I only compete at CDI's so I come in without any practice runs. It's a lot different riding at home than in a test environment so I definitely feel more confident once I'm through the first test."
New South Wales riders filled the minor placings and leading the charge for the home state was David Shoobridge and OO Seven which scored 67.70.
In just their fourth CDI Grand Prix, Nadia Coghlan and the 13 year old gelding Carlyle achieved a personal best score of 66.89 which secured them third place.
Day two action gets underway at 8:30am with the CDI Grand Prix Special to start at 1pm