Equestrian Australia Sport Achievement Awards 2017
Join us for an Awards night with a difference!
Take off your heels or your tie and embrace our love of the outdoors.
Bring your friends and make new friends as we celebrate the remarkable achievements of our wonderful equestrian community.
This night will be unique, interactive and a lot of fun…..so don't miss out, a change is coming.
This year's Equestrian Australia Sport Achievement Awards Night, incorporating the EA Hall of Fame, will take place at the Stockmen's Bar & Grill, Brisbane Showgrounds, Queensland on Friday 24 March 2017.
This annual event recognises the top performing athletes and horses of the previous year as well as the sport's most outstanding administrator, coach, official, owner, volunteer and event of the past 12 months.
Equestrian Australia's Sport Achievement Awards Night also honours the sport's most dedicated, successful and extraordinary through the Hall of Fame.
Book your tickets now on Nominate  RSVP 17 March
Ticket price: $110 per person or $1,100 for a table of 10
Program:
Pre-dinner drinks at 6.30 pm
Awards Ceremony at 7 pm
New Orleans Jazz Band
Gourmet BBQ and complimentary bar
Dress : casual chic (Take off your heels or your tie !)
Feel free to phone the National Office of any enquiry about booking your tickets on 02 8762 7777.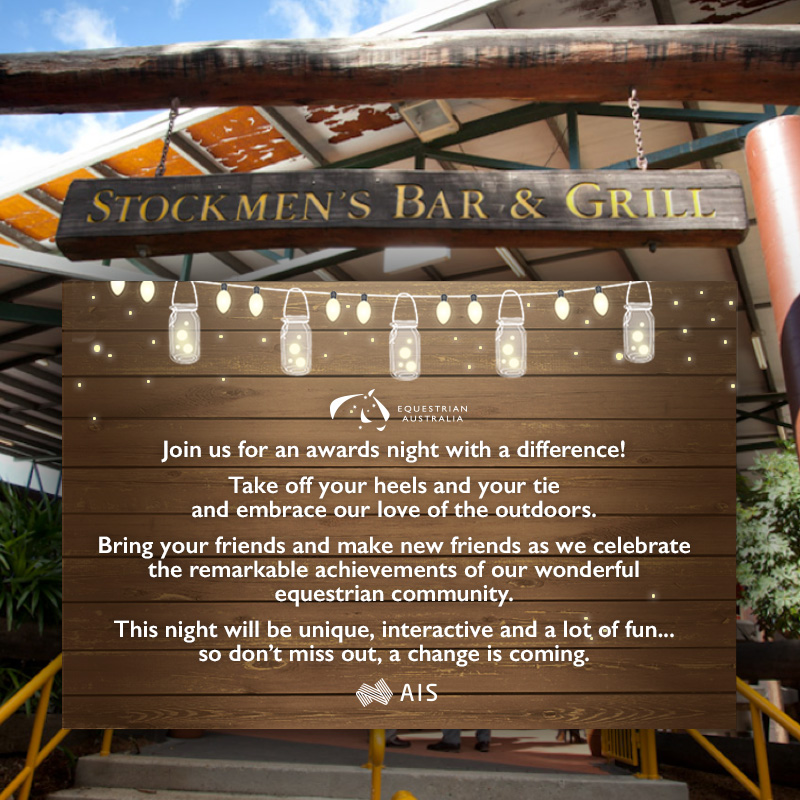 Access & Parking:
Address: Stockmen's Bar & Grill, Brisbane Showgrounds, Gate 3, Gregory Terrace, Bowen Hills, Qld 4006
The best parking for the venue will be via Gregory Terrace gate 3 and then the Main Arena Track access.
Attendees may drive up to the car parking attendant booth to pay $13 upon entry. 
Brisbane_Showgrounds_Parking_Map.pdf
The EA Sport Achievement Awards are supported by: