Equestrian Australia Sport Achievement Awards 2017
View the award and Hall of Fame recipients 
Join us for an Awards night with a difference!
Take off your heels or your tie and embrace our love of the outdoors.
Bring your friends and make new friends as we celebrate the remarkable achievements of our wonderful equestrian community.
This night will be unique, interactive and a lot of fun…..so don't miss out, a change is coming.
This year's Equestrian Australia Sport Achievement Awards Night, incorporating the EA Hall of Fame, will take place at the Stockmen's Bar & Grill, Brisbane Showgrounds, Queensland on Friday 24 March 2017.
This annual event recognises the top performing athletes and horses of the previous year as well as the sport's most outstanding administrator, coach, official, owner, volunteer and event of the past 12 months.
Equestrian Australia's Sport Achievement Awards Night also honours the sport's most dedicated, successful and extraordinary through the Hall of Fame.
Book your tickets now on Nominate  RSVP 20 March
Ticket price: $110 per person or $1,100 for a table of 10
Program:
Pre-dinner drinks at 6.30 pm
Awards Ceremony at 7 pm
New Orleans Jazz Band
Gourmet BBQ and complimentary bar
Dress: casual chic (Take off your heels or your tie !)
Access & Parking:
Address: Stockmen's Bar & Grill, Brisbane Showgrounds, Gate 3, Gregory Terrace, Bowen Hills, Qld 4006
The best parking for the venue will be via Gregory Terrace gate 3 and then the Main Arena Track access.
Attendees may drive up to the car parking attendant booth to pay $13 upon entry. 
 Stockmens parking map-Main Arena.pdf
For wheelchair access click HERE. 
View this year's long list of finalists
AUCTION
Want to own a piece of Equestrian history or something connected to your favourite Australian horse or rider ?
For the first time ever Equestrian Australia is conducting a live auction in the lead up to the annual Achievement Awards Night.
Some of the great items on offer include Masterclasses (lessons) from professional riders and coaches across Australia, Stallion service fees and unique, one-off Olympic and WEG paraphernalia such as show jackets, horse rugs & more.
The auction is now LIVE online and is open to anyone within or outside of Australia.
Don't miss this exclusive auction
Handbid is also an app that can be downloaded via your mobile for free and will make the online auction experience and bidding much easier. Once downloaded, you can search for our Auction titled 'Equestrian Australia Auction 2017' and sign in to place a bid.
So start bidding away today......good luck!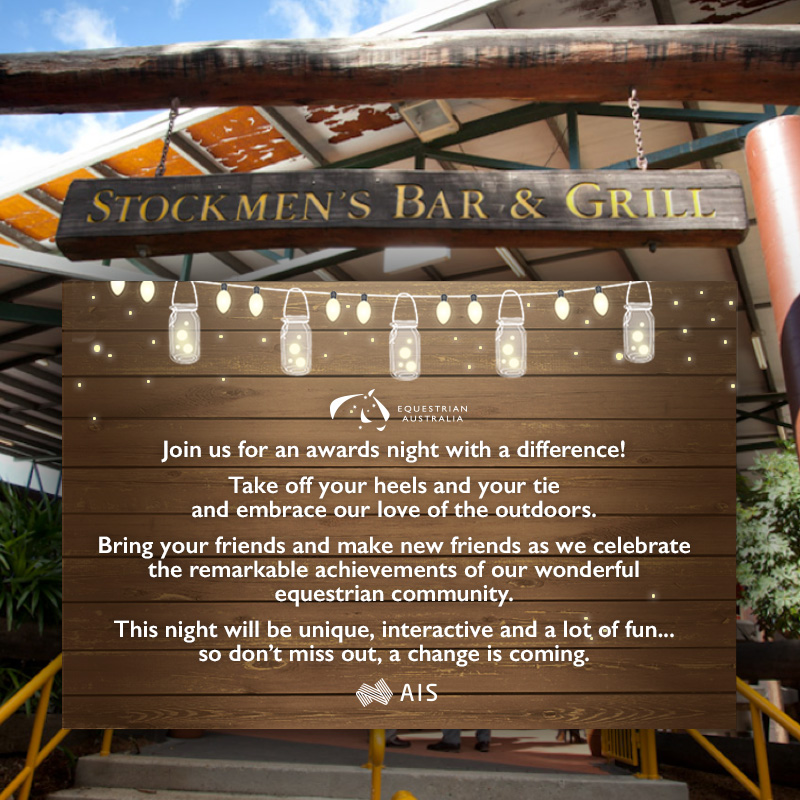 Booking your accommodation:
Equestrian Australia guests receive a special 10% discount with TFE Hotels Group – comprising Adina Apartment Hotels, Medina Serviced Apartments, Rendezvous Hotels, Vibe Hotels, Travelodge Hotels and TFE Hotels Collection.
Just go to https://www.tfehotels.com/
On the right corner, choose BRISBANE as the city and the dates you will be staying. At the bottom in SPECIAL CODES enter the code in the below document.
Feel free to phone the National Office of any enquiry about booking your tickets for the awards night on 02 8762 7777.
The EA Sport Achievement Awards are supported by: