The Acceptance List is out for the Star Studded 2017 Martin Collins Australian Dressage Championships
The 2017 Martin Collins Australian Dressage Championships presented by Boneo Park Equestrian Centre is set to be a star-studded line up with 25 entrants in the CDI-W including British Champion & Olympic Silver Medalist, Spencer Wilton, riding Mary Hanna and Carol Haynes' Umbro.
The CDI-W is set to impress with household names such as Brett Parbery riding the ever-consistent DP Weltmieser, along with his newcomer to Grand Prix PPH Zeppelin. Other crowd favourites are Heath and Rozzie Ryan who will feature on 3 horses between them.
The Australian Dressage Championships has also attracted entrants from across the Tasman, with Julie Brougham riding Vom Feinsten and Abbie Deken riding KH Ambrose attending from New Zealand. Brougham and Vom Feinsten were New Zealand's third rider to have represented at Olympic level, making their debut appearance at the Rio Olympic Games.
What's really exciting for Australian dressage is the depth of talent coming through the ranks with 2016 Australian Championships Grand Prix CDI-W Freestyle winner Mary Warren returning, but this time on her other mount Mindarah Park Raphael. There are many more new faces this year, which will make this a really iconic event with legends of the sport battling it out with the newcomers.
We also have Mary Hanna's London Olympics mount Sancette but to add a slight twist this year, Sancette will be piloted by Hanna's daughter Gitte Donvig, making it a truly family affair with Hanna returning home to watch the championships.
As well as delivering high-class sport, Boneo Park has also teamed up with Dressage Masterclass for the first time to deliver an exciting entertainment and education program.
Following the success of their Carl Hester Masterclass in 2016, Dressage Masterclass have secured the talent of Rio Olympic silver medalist and British Champion Spencer Wilton who will deliver the Saddleworld presents the Spencer Wilton Young Horse to Podium Masterclass on Saturday 21 October ahead of the Grand Prix Freestyle. To see Spencer compete in the CDI-W will be a real treat for spectators with Spencer on form with 6 victories in 2017.
The Masterclass list has just been released and will feature a shortlist of riders with one reserve including John Thompson, Riley Alexander, Denise Rogan, Micky Bray, Rachelle Wilson and Maree Tomkinson. This shortlist of riders will feature showstoppers such as Mulawa Performance's Aber Halo MI and queen of the stars Donna Elena.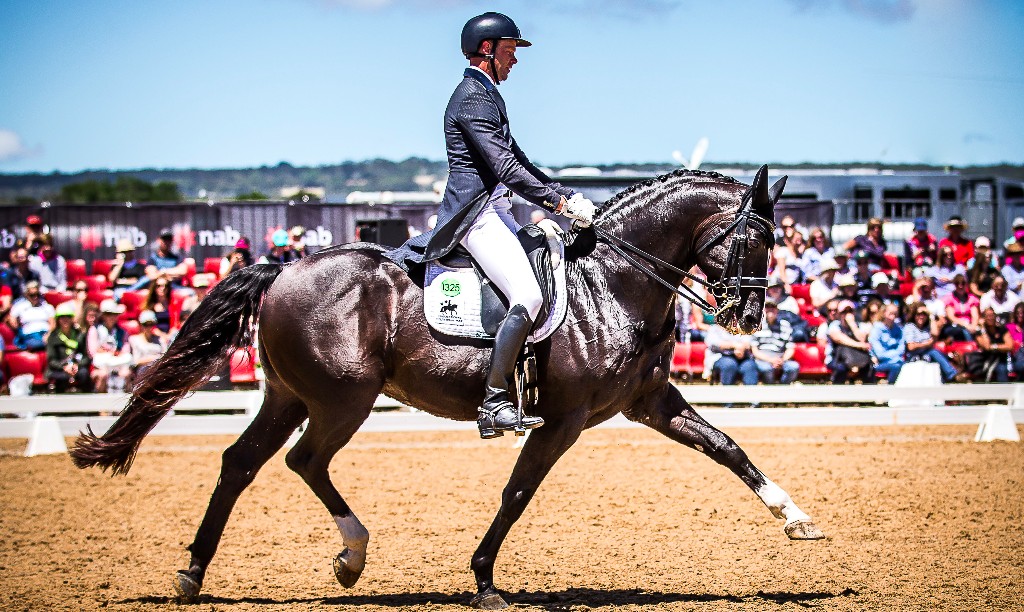 View the Acceptance List HERE.
Friday 20 October will see the return of Australia's own Simone Pearce, who has firmly established herself as an international young horse specialist coming off the back of her tremendous success at the FEI WBFSH World Breeding Dressage Championships for Young Horses. She will present the Peninsula Volkswagen Young Horse Masterclass before taking part in the Aussies Abroad Challenge, alongside John Thompson and Maree Tomkinson.
This is an exciting new concept that will see Pearce and Thompson ride a Prix St Georges test on catch rides, whilst Tomkinson returns to the arena on crowd favourite Diamantina!! With the riders miked up as they talk the audience through their test, this is guaranteed to be action-packed and full of fun! Following straight after will be the always hotly-contested CDI-W Grand Prix.
Visitors will enjoy an intimate European style spectator experience as the competition and entertainment unfolds and with undercover allocated seating, spectators can enjoy shopping in the always-popular trade village without missing out on the best seats in the house.
Don't miss your chance to get the best entertainment ticket in town!
2017 Martin Collins Australian Dressage Championships
Dates | 18-22 October 2017
Adress | 312 Boneo Road, Boneo VIC 3939
Tickets | Available on dressagemasterclass.com.au