Photo credit Julie Wilson Equestrian Photography
Clarke still holds top spot after MMAus3DE Cross Country
As the CCI4* Qantas cross-country phase ends, Clarke Johnstone continues on top of the Leaderboard on 45.90 penalties. "It was right up there. A real 4*. It was hard."
Talking about his 13-year-old Balmoral Sensation, The New Zealander said "He is always pretty wild before the cross-country. I could hardly control him this morning at the first warm-up but once he gets out of the start box he is completely focussed, 100%. He doesn't notice anything at all except what is in front of him. I am really lucky to ride that horse."
It was obviously a very mixed day for Sonja Johnson. She is sitting in second position (60.70 penalties) with her young and talented Misty Isle Valentino but her long-term partner, Parkiarrup Illicit Liaison - owned by Nikki Harwood, sustained an injury on the cross-country course. "I think it was a pretty exciting run for a young horse and I wanted to do him justice and stayed focus but I must admit that my first question when I crossed the finish line with Valentino was "How's Ben?" even though I knew there was nothing else I could do. He was in good hands with the Australian Team vet Nathan Anthony and his owner."
Sonja posted on her Facebook Page: "Many thanks to everyone for their concern for Ben. He has ruptured the medial retinaculum. Which is a ligament in his hock as he galloped from the second last to the last on xc. The vets have been great. He is on anti-inflammatory and it is wrapped up in ice. I have been told horses have recovered and gone 4* again. Nikki Brooks-Harwood and I have no plans for him at this stage other than doing everything we can to keep him comfortable."
We wish Ben a speedy recovery!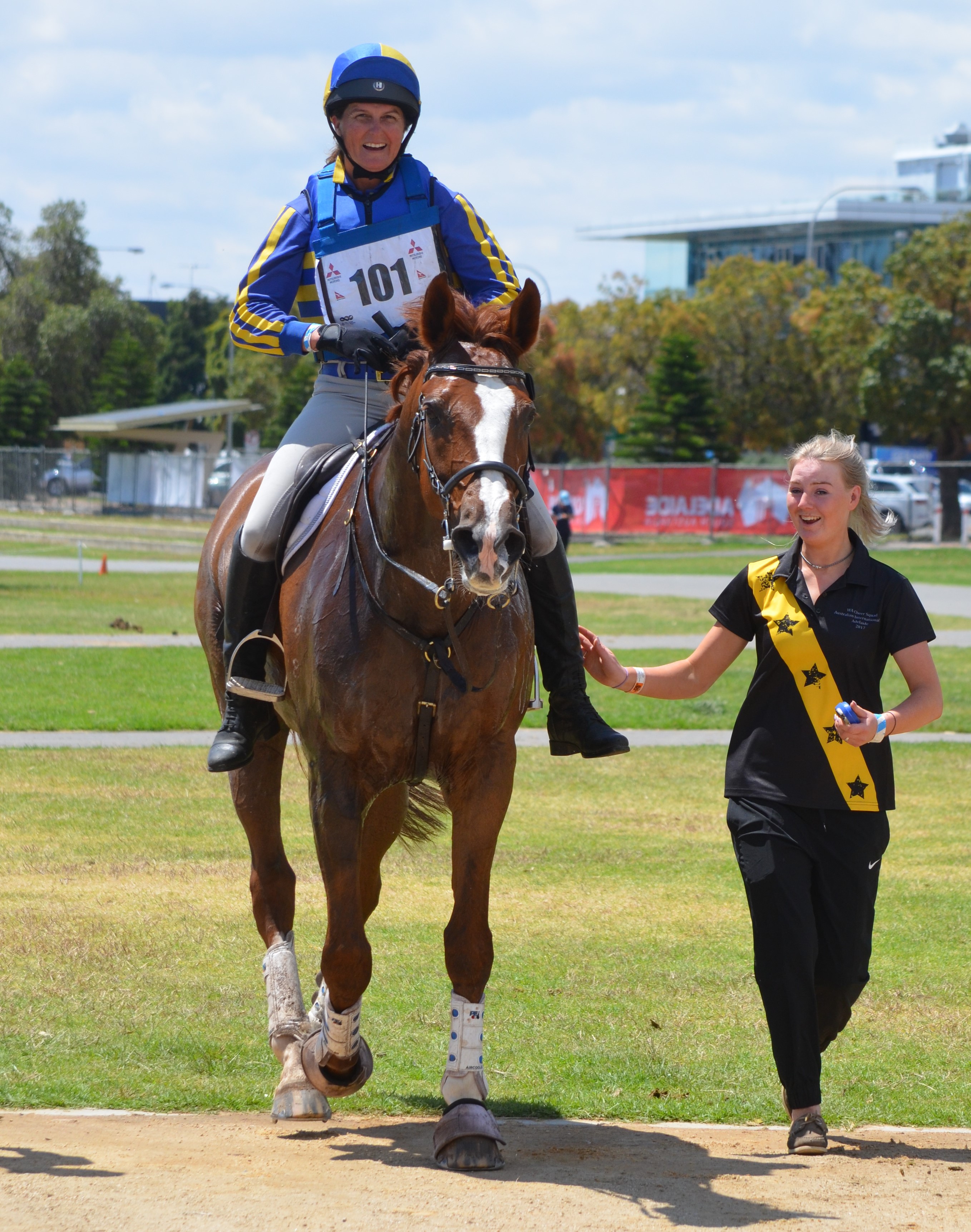 The biggest turnarounds from the Pryde's EasiFeed Dressage phase was Stuart Tinney riding War Hawk and Andrew Cooper riding Tasman Park Ovation, who were in respectively 15th and 16th place yesterday, but after a fabulous cross-country round, finished the second day in 3rd and 4th place on 61.00 and 61.70.
The 4* was not without its challenges for some of the most accomplished of riders and the technicality of the course came to the fore again with a handful of combinations unable to complete.
In the Thoroughbred Racing SA category Robert Palm and his OTT horse Koko Story is currently in 1st place (6th overall) on 65.60 penalties, being closely followed by Donna Edwards-Smith and her horse Dse Mr Hokey Pokey (7th overall) on 69.90.
With Johnstone and Johnson holding onto podium positions for a second day, the questions is can they hold their nerve and finish strongly tomorrow? The challengers will not go out quietly and the pressure is certainly on, so speed and precision will be needed to be crowned the 2017 champion.