Exciting start for the Longines FEI World Cup™ Final Opener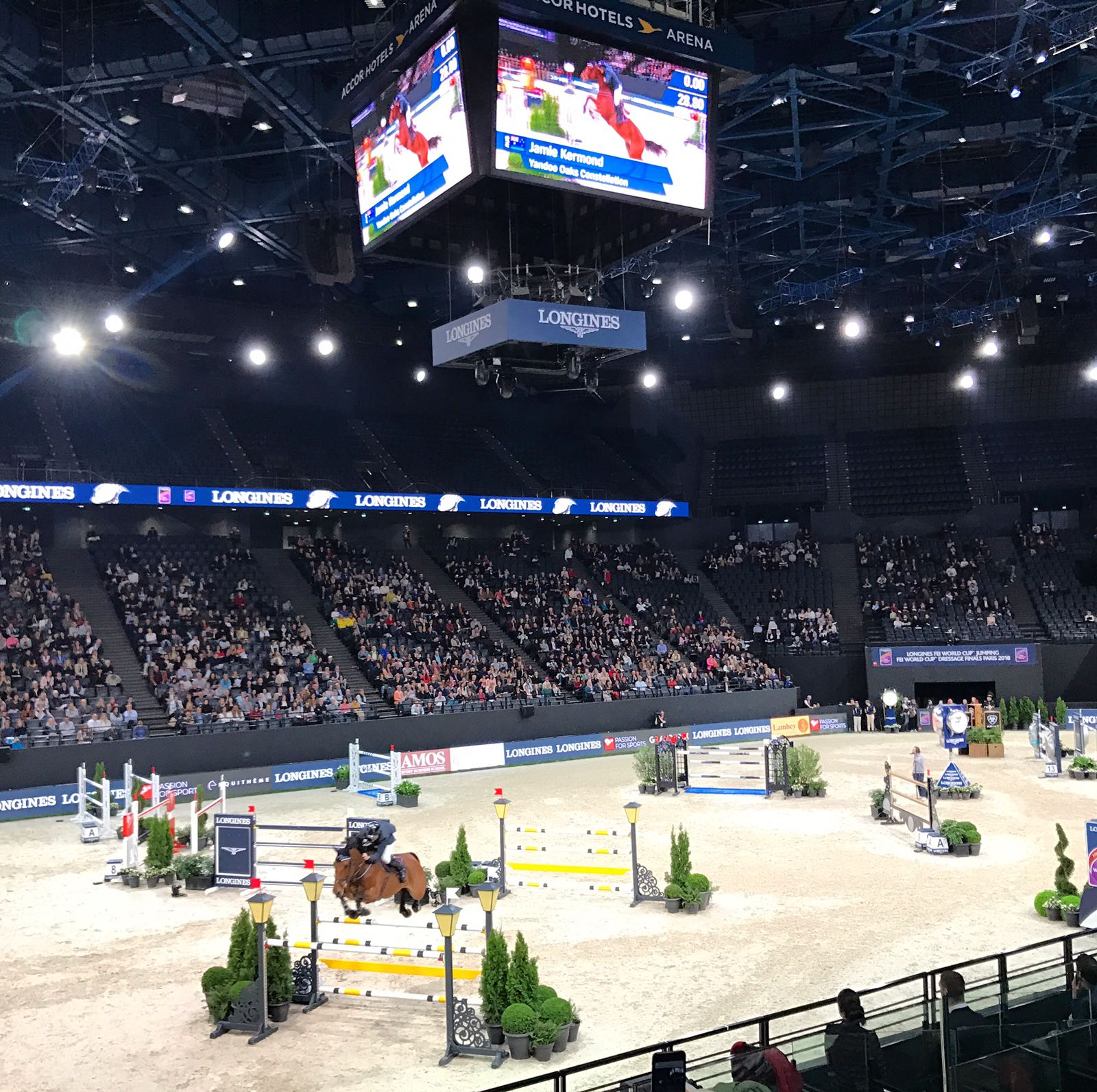 What a start to the FEI World Cup™ Finals in Paris as Beezie Madden (USA) blitzed around the Bercy arena with Breitling to take the least after day 1 of competition that started at 4.30am this morning Australian time. Who was up to cheer live our two Aussie riders Billy Raymont and Jamie Kermond?
Jamie and Yandoo Oaks Constellation conclude the day in 26th position with 74.94 seconds (70.94). Billy and Oaks Redwood in 32nd position with 80.04 seconds (72.04).
To view the Start Lists and full results over the weekend, follow http://www.longinestiming.com/#!/equestrian/2018/1462/html/en/longinesti... 
The winner of the Longines FEI World Cup Jumping Final is the rider who finishes the competition with the fewest number of penalties. It is a battle of the giants with a total of 37 riders from 17 countries. Final Part 2 Saturday 4.30 am AEST. Good luck to all!
Live streaming and replay on the FEI TV. 
SCHEDULE
FRIDAY 13 APRIL – 4.30am AEST
LONGINES FEI WORLD CUP™ JUMPING FINAL I
Table C, with obstacles up to 1.60m in height. The horse and rider combination must jump the round as quickly as possible. Faults are transformed into seconds, which are then added on to the competitor's time on the round. The winner will be the rider with the fastest overall time and will therefore be awarded zero points.
Live Streaming
SATURDAY 14 APRIL – 4.30am AEST
LONGINES FEI WORLD CUP™ JUMPING FINAL II
A class with a jump-off, with obstacles up to 1.60m in height. The starting order will be the reverse order of the standings of the First Final Competition. Class open to riders who have finished the First Final Competition course. Each rider who has a clear round within the allowed time will go through to the jump-off.After the standings of this 2nd class, the faults will be added to those accrued during the First Final Competition, in order to determine the overall provisional standings for the Third Final Competition
Live Streaming
SUNDAY 15 APRIL – 10.00pm AEST
LONGINES FEI WORLD CUP™ JUMPING FINAL III
A class with a jump-off, with obstacles up to 1.60m in height. The 30 best riders from the First and Second Final Competitions will take go through to the 1st round. The 20 best riders will go through to the 2nd round. The starting order will be the reverse order of the provisional standings of the 1st round.
Jumping Final 3 Round 1
Sunday, 15th APRIL 10.00pm AEST
Jumping Final 3 Round 2
Monday, 16th APRIL 12.30am AEST