Photo credit Julie Wilson
New Zealander Clarke Johnstone leads Adelaide CCI4* after Dressage
FEI World Equestrian Games hopeful Johnstone leads the Adelaide CCI4* at the 2017 Mitsubishi Motors Australian International Three Day Event after the Pryde's EasiFeed Dressage phase.
With only 298 days to go until the start of the FEI World Equestrian Games (WEG) in Tryon, Australia's Eventing hopefuls were out in force to impress selectors with Olympians Sonja Johnson riding Parkiarrup Illicit Liaison (67.02% with 49.50 penalties) and Megan Jones riding Kirby Park Impress (66.91% with 49.60 penalties) coming in second and third respectively, but unable to take the top spot away from Johnstone.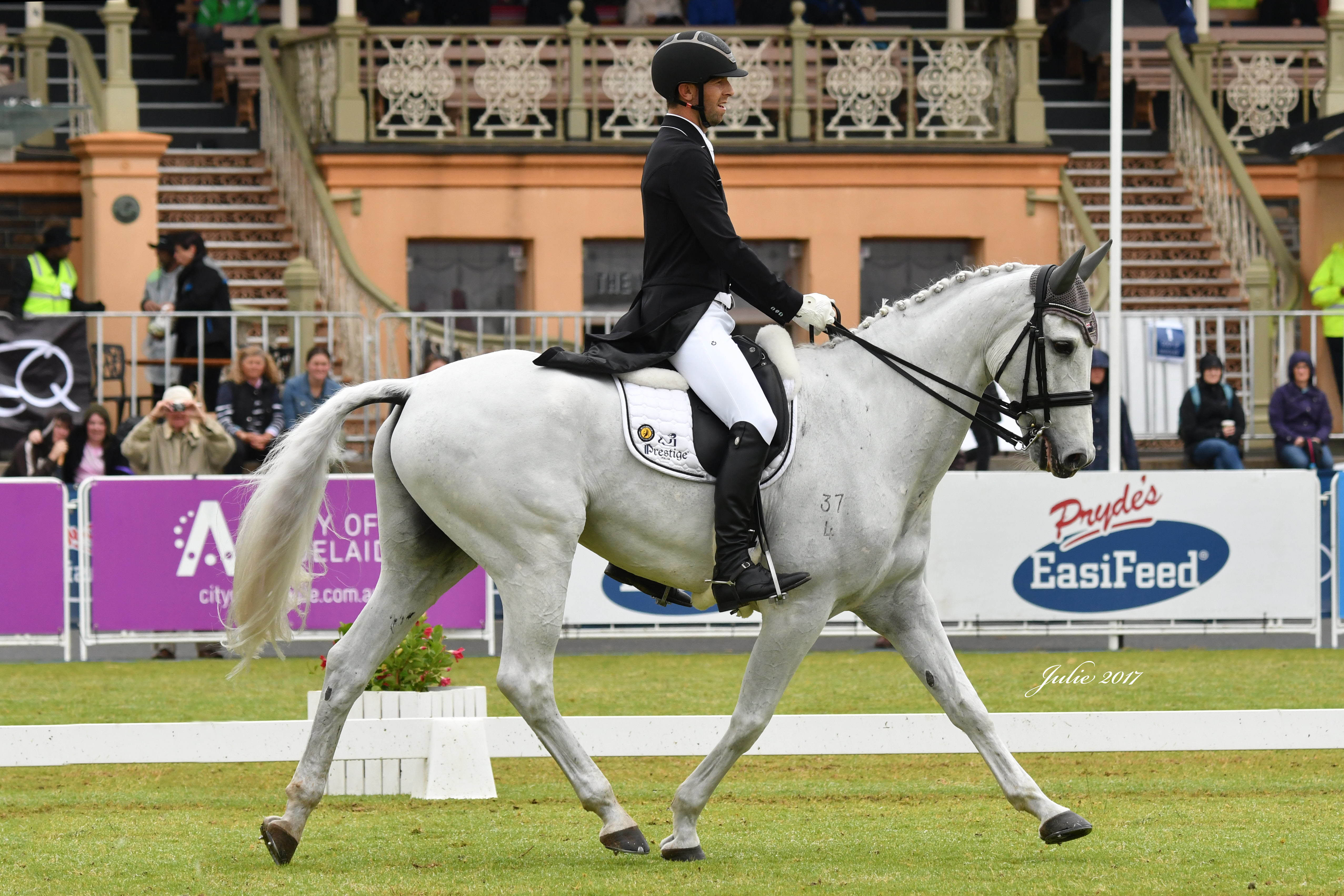 In a wet and windy Adelaide, Johnstone and his mount Balmoral Sensation were the standout performers on the first day, riding to a score of 69.40% with 45.90 penalties. They have put themselves in a strong position going into tomorrow's influential cross country, with Johnson and Jones close behind. Last year's winner Hazel Shannon, with Willingapark Clifford, are currently sitting in 10th position and Rio 2016 Olympian Stuart Tinney and his mount War Hawk, currently in 15th.  
Clarke Johnstone and Balmoral Sensation started strongly after a nearly 24-hour journey from New Zealand.
"He is an amazing horse and I am very lucky to be riding him. He had a slight issue earlier on, but we worked through this and overall, I thought the test went very well."
"Taking everything into consideration, I am very happy to be in the lead at this early stage. He is a great jumper, with a lovely temperament and I am looking forward to what we can both produce over the next 2 days".
Talking of the event itself, Johnstone was very complimentary adding, "as the only 4* in the Southern Hemisphere, this is an important event for my selection for WEG. The location of this event is unlike any other in the world and its proximity to the city makes it extremely unique. With a great crowd, I would go so far as saying this is my favourite event in the world."
Thousands of equestrian fans are expected to flock to Adelaide's beautiful parklands to enjoy the Qantas Cross Country Day tomorrow, where the competition and stakes will be high and the battle for the lead continues.
In the R M Williams CIC3* Australian rider Christine Bates came out on top riding Adelaide Hill with a score of 71.86% with 42.20 penalties. Perth born Bates is a seasoned professional with an impressive track record, and her sights now firmly set on achieving success with her multi-event winning horse, Adelaide Hill. This successful rider-horse combination was previously short-listed for the 2012 London Olympics. With a positive start to the campaign, they are excited to continue this on the cross country course tomorrow. 
The CCI2* begins at 9:30 am followed by the CCI4* at 12:30 and the CIC3* at 2:30 pm. Don't miss the Sam Griffiths Country Masterclass with our Rio Olympian at 5.15pm in the Main Arena.