Photo credit The 17th Photographer - Rachel Gordon
Outback Horsewoman Realises Dream
When Margie Elliot was handed a wildcard entry to compete at the recent Australian Amateur Dressage Championships at Caboolture (QLD) it gave her the chance to realise a childhood dream.
Margie lives in drought-stricken Longreach in Outback Queensland and up until last week had never in her life worn tails or competed in an Advanced dressage test due to her remoteness.
"Growing up I used to look at those riders in their top hats and tails and think how much I would love to be able to ride like that one day," said Margie.
"It was the most fantastic event and it puts goosebumps up my spine just thinking about the experience," said Margie.
Margie and her horse Mag Pie travelled more than 2500KM to take part.
The aptly named Mag Pie is Quarterhorse/Thoroughbred cross Pinto mare. Margie bought her as a partly broken in 2YO and initially used her for pen riding at the local cattle saleyards. Mag Pie also competed in stockman's challenges. She could be quirky and a bit of a handful so Margie decided to Liberty train her. This decision marked the beginning of the pair's epic journey towards taking part in a national Dressage competition.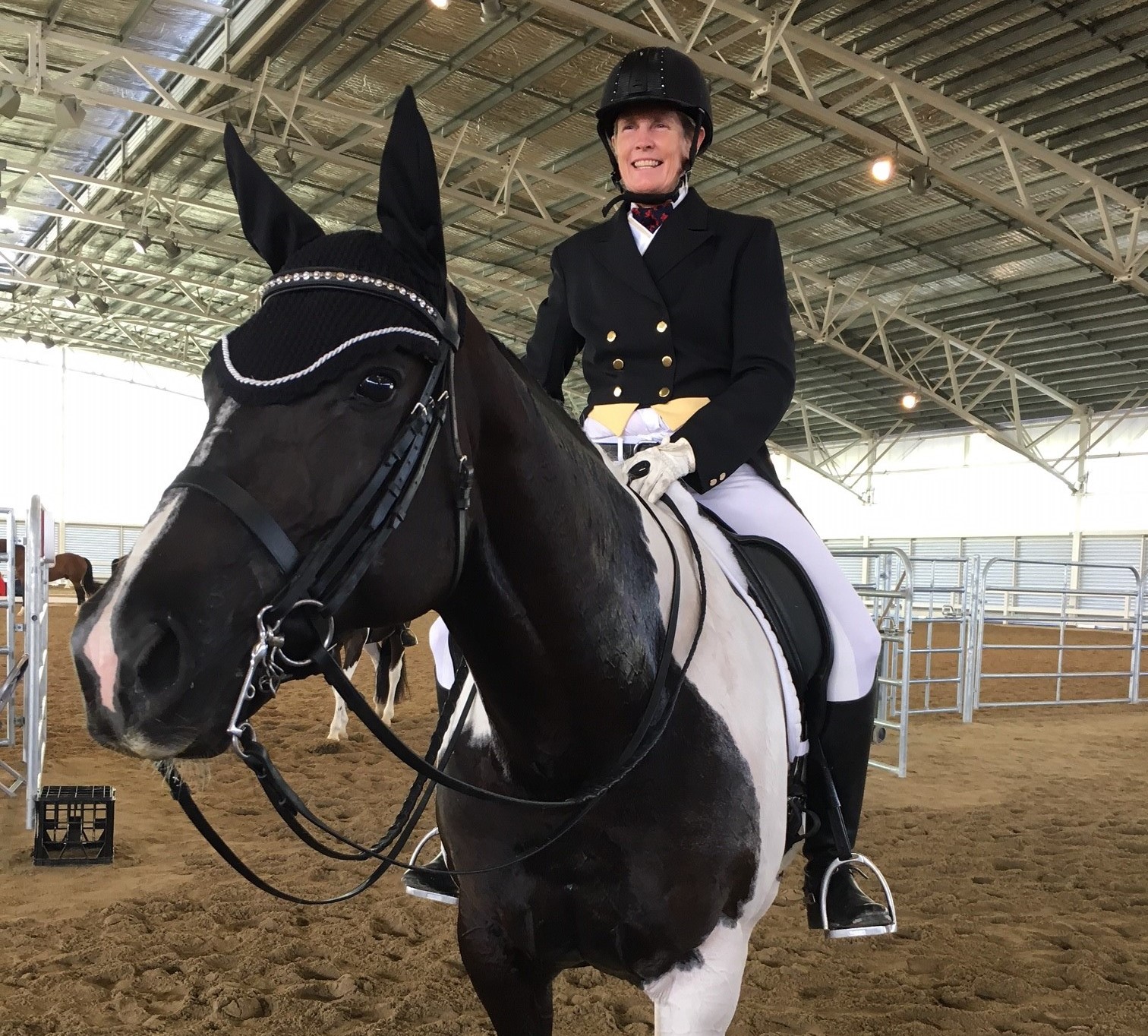 Event organiser Leasa Stephen said Mag Pie and Margie's involvement captures the essence of what the Australian Amateur Dressage Championships concept is all about.
"It's a chance for them to come out of their shell and paddocks and get benefits of sport at a national level," said Leasa.
"The philosophy is to create an inclusive environment that enables riders to compete against peers in a non-threatening and professional competition."
"Everyone has a smile on their face," she said.
Margie placed 8th in the Advanced class and was reserve champion in the Medium class.
Margie proudly wore a stock for the first time that she had specially made from a tie once worn by her late son James. Sadly, James died at the age of five after contracting meningitis caused by contaminated bore water.
"It was my lucky tie that I wore when I competed at horse events so I worked out a way that I could get it made into a stock so that I could wear it at this event."
Now that Margie's had a taste of national level of competition she is determined to return for next year's championships and better her results. And, in the meantime between now and then, she will be hoping another dream comes true – rain! It has been five years since decent rain has fallen in her part of the world.