1960 Australian Eventing Team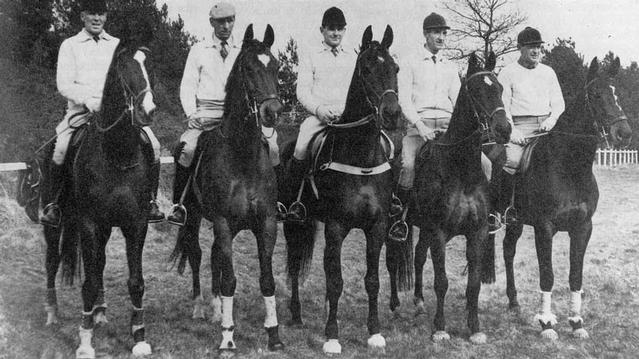 Photo: Rome 1960 Australian Equestrian Eventing Team members (from left to right) Laurie Morgan, John Kelly (Reserve), Neale Lavis, Bill Roycroft and Brian Crago.
Team Coach was Franz Mairinger and Section Manager was Sir Alex Creswick.
The legend of the Australian Event riders was cemented in history at the Rome Olympic Games in 1960.
Prior to the competition, a number of members of the Australian team walked around the cross-country course to familiarise themselves with the layout it was then that they discovered a legal short cut that they used to advantage during the event itself.
The team was doing well when Bill Roycroft and his horse took a tumble on the cross-country course. Roycroft finished the course but was injured and airlifted to hospital, dashing the hopes of the Australian team. Australia had a chance of winning gold, but three riders needed to complete and Brian Crago's horse (Sabre) had been withdrawn at the end of the second day and was not fit to compete in the show jumping phase. Determined not to let his team down 45-year-old Roycroft discharged himself from hospital, against doctor's orders. With one arm in a sling, he was lifted onto his horse to ride a clear showjumping round, leading the Australian Team to a gold medal.
In addition to their Team gold medal (only one medal was awarded to the whole team), Laurie Morgan (Salad Days) also won individual gold and Neale Lavis (Mirrabooka) individual silver. Bill Roycroft (Our Solo) finished in 11th position. Brian Crago (Sabre) was the only team member that had also ridden at the 1956 Olympics. Unfortunately, he did not finish the event in Rome and under the existing rules, did not get a medal.
At the second-ever Olympic Games for an Australian Equestrian Team, our riders had conquered the world and proven to the generations to come that anything is possible.