Four named on 2016 Australian Paralympic Equestrian Team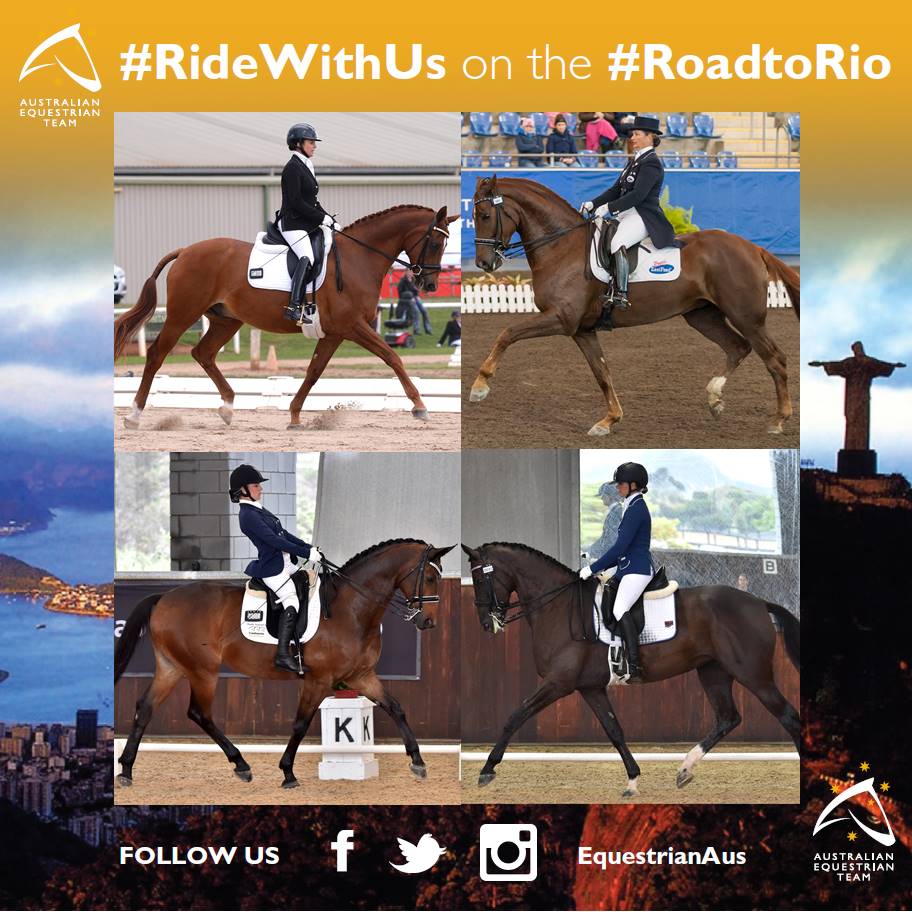 Three Paralympic debutants will join Beijing 2008 Paralympian Sharon Jarvis to make up the 2016 Australian Paralympic Equestrian team set to compete in Rio, the Australian Paralympic Committee (APC) announced today.
As the only Para-equestrian rider on the team to have previously competed at a Paralympic Games, Jarvis will lead teammates Emma Booth, Katie Umback and Lisa Martin on the equestrian arena at Deodoro Stadium.
Australia has won nine medals in equestrian at the Paralympic Games – three gold, one silver and five bronze – since the sport was introduced in Atlanta 1996.
Kate McLoughlin, Chef de Mission of the 2016 Australian Paralympic Team hopes the tally will continue to grow in Rio. "London 2012 saw the Equestrian Team win Australia's very first Paralympic gold medal of the Games, and although there will be just 11 medals on offer in Rio, we've got high hopes that Sharon, Emma, Katie and Lisa can enhance our country's record of success in Para-equestrian," McLoughlin said. "It will be tough, but I'm confident in our team's ability to succeed."
WA-based Jarvis, who has limited strength and movement on her left side as a result of bone cancer, has been training for eight years, after narrowly missing out on a Paralympic medal when she placed fourth in the individual championship event at the Beijing 2008 Games. She missed selection for London 2012. This year, she will be competing with horse Ceasy, a Dutch Warmblood who she competes with in the Grade III class. "I'm looking forward to seeing the Australian flag fly at another Paralympic Games. It is a very exciting opportunity to be selected, and makes all the hard work over the years, well worth it," Jarvis said. "My main motivation has been to get to another Games so I can have another shot at the podium. "I want to show that cancer sufferers and survivors that anyone can achieve great things, and I want to show everyone in country WA that they can get there too," she said.
25-year-old Booth, who is currently ranked as Australia's number one Grade II rider, is thrilled to be making her Paralympic debut this year. She will be competing with her horse, Zidane, a 13-year-old Danish Warmblood imported to Australia nearly three years ago. "Being a Paralympian is something that will be with me for life. Something that no one can take away from me," she said. "To know that we've earned the right to compete at the top of our sport is amazing and exciting. Three years ago, I didn't think it would be possible, so to actually be doing it is unreal. "
Agreeing with Booth, 44-year-old Martin will relish the unique opportunity of competing in Rio. "It feels unbelievable to have been selected to represent Australia at the Paralympic Games," Martin said. "Competing at the pinnacle event of your sport is a wonderful opportunity and an experience not many people have. I'm looking forward to competing in Rio alongside a fabulous team of riders."
Bega-based rider Umback, who was diagnosed with multiple sclerosis ten years ago said: "Making it to the pinnacle of my sport has been a dream since I first began riding. A future being as able as I am is uncertain; it means a lot to me to achieve my goals before my disease catches up to me."
Paralympic equestrian is open to athletes with a physical disability or vision impairment. Competition is divided into five grades based on an athlete's level of function across individual championship, freestyle to music and team events. 
The Rio Paralympic Games will take place from 7 September through to 18 September, 2016. 
The 2016 Australian Paralympic Equestrian Team
Sharon Jarvis – Donnybrook, WA
Emma Booth – Langwarrin South, VIC
Katie Umback – Bega, NSW
Lisa Martin – Scone, NSW
Equestrian Australia (EA) can also reveal the team's reserve combinations:
-        Joann Formosa and GB Winchester (Grade 1B)
-        Nikki Doogue and Dinant (Grade 4)
In the event that a selected combination was to become unavailable prior to the team's departure from Australia then Joann Formosa and GB Winchester will be the substitute. Once the team has arrived in Europe for its pre-Games staging camp, if a selected combination was to become unavailable then Nikki Doogue and Dinant will be the substitute. 
RELATED #ROADTORIO STORIES : 
To read all the Para-equestrian NEWS, articles interviews of the riders ... click HERE.