A&H Photography Sydney
2015 Saddleworld Dressage Festival - Interview #RoadtoRio with Katie Umback
The 2015 Saddleworld Dressage Festival is starting tomorrow at Werribee Park National Equestrian Centre near Melbourne in Victoria. Over four days of competition with 400 competitors performing over 800 dressage tests it incorporates, besides the Victorian Dressage Championships, important milestones for our top level riders. It is the first Rio Selection event for Para-equestrian, one of the 6 for Dressage and the final of the Pacific League World Cup where the winner gets the chance to represent Australia at the World Cup final next year. 
We have had the chance to talk with Katie Umback, Para-dressage competitor long-listed for Rio 2016, on her way to Melbourne.
Rider since a very young age
I started riding when I was 4 years old in pony club, competing in agriculture shows one year later. I discovered dressage when I was 7 and then Eventing. I have been a rider my whole life.
I had to stop riding when I was first diagnosed with MS (Multiple Sclerosis, disease that affects the central nervous system) for seven years my disability was so bad. The medication wasn't working and I was deteriorating but I then responded really well to a new autoimmune medication on the market and that enabled me to start riding again. Riding become very different to what I had known my whole life because I have 70% partial numbness in my body and significant loss of strength in my limbs. It took me about a year and a half to teach myself how to ride again. Now I ride a little bit differently to an abled bodied rider, I had to build on that and it took me a couple of years to be at the point where I am now.
On the road to Rio, focus and rigour to put all the chances on your side
I ride as often as I can. With my disease some days I can and some days I can't but I have had a very good health these last twelve month so I am able to ride four, sometimes five days a week. Last year I was competing about two to three times every month plus riding 4/5 times a week but I've cute it back to competing twice a month now.
This year, leading to Rio, everything has been lifted up: I have been focusing on a good diet, good sleep, see my physio regularly ; I have incorporated Pilates four days a week and I work my cardio as often as I can so as my riding. Everything is overseen by the Australian Institute of Sport. I am trying to get myself as conditioned as I can to be able to compete at this level.
First European experience in the UK
Hartpury (Festival of Dressage with a CPEDI3*) was a real eye opener for me. It gave me a good feeling of the type and level of competition I will be competing against next year in Europe. It was quite difficult because I was riding a burrowed horse and I had only had about seven rides on her before I went to Hartpury and she is a world apart from my horse so I had to learn a whole new way of riding. It was pretty intense before going to the competition but it all came together in the end for me. It gave me a good insight of next year, how much I need to lift my game and improve to be competitive against the European. I will be moving to Europe at the end of February 2016 for six months to compete on the European Dressage circuit to do three more qualifiers and then fly to Rio.
With two recent personal best scores (76.852% and 77.927%) with my horse Marquis, we have definitely set our own benchmark scores now and I do have a bit of pressure on myself leading into Melbourne this weekend and into the following qualifying events. They were my international Paralympic qualifying benchmarks scores so I really need to get three rather than two down here. I am my worst critique and with progression in my scores I expect myself to go out and do better than my PBs! I am pretty tough on myself.
The Paralympic dream
Everything today is going to plan. I am really looking forward to going to Holland for six month because I am going to be based with an Australian guy, called Tristan Tucker, who is a very good coach and is actually the person who trained my horse at the first place. And I am at that level now where he can really get me up a few nots. I am sort of being in the top ten in my grade in the world now but Tristan really knows my horse inside out, he trained him and he knows me inside out so I am really hoping that he can push us up again. By Rio I would like to be in the top three in the world in my grade.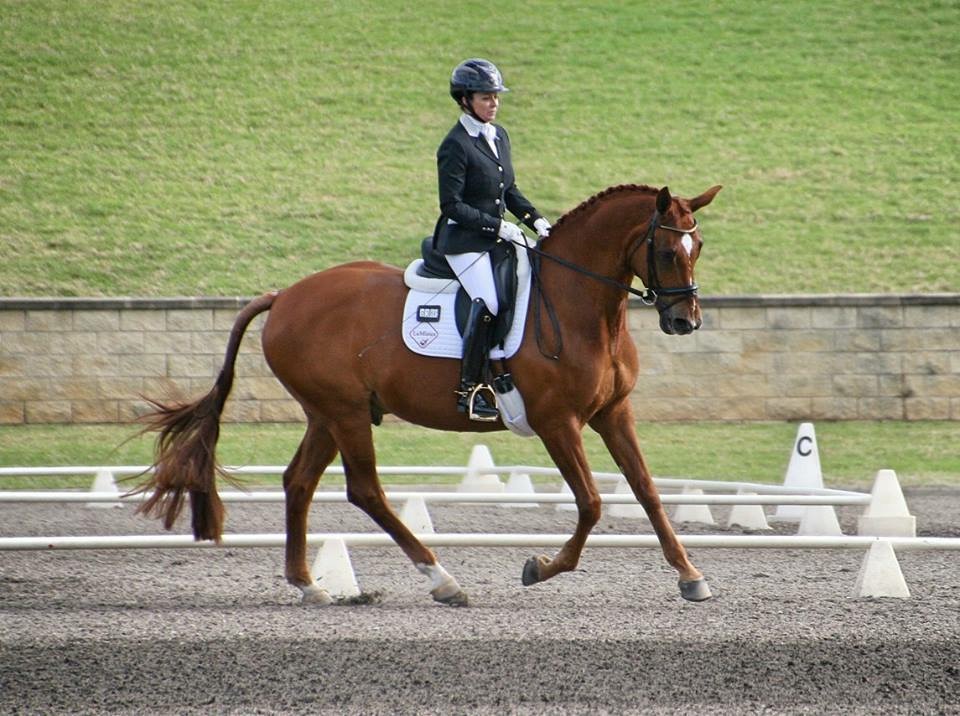 RELATED #ROADTORIO STORIES : 
To read all the Para-equestrian NEWS, articles interviews of the riders ... click HERE.