Catching up with Caitlin Radford on the #RoadtoRio during the Dressage Festival
We had met the Tasmanian rider a few months ago, in July, before she left for England and the Harpury CPEDI3*, where Caitlin was 

one of five riders representing Australia. Since then, she has turned 17 years old and is definitely engaged and focused on the #RoadtoRio ....
The horse I am riding here in Weribee, Callum Park Starbucks, is only 6 yo so he is only a baby. I am very happy with him after the Para Team Test of this morning. He is getting better after every test and we got a good score too today. We won't fare behind the leader of the class. I haven't been riding him for very long. He is owned by my coach, Susan Elekessy so I fly up to Camberra where she lives and do as much as I can, usually fly one week before the competition to ride him and also a week in-between school but not regularly. I have done two competitions on him (Sydney and Boneo), this will be my third.
It is an important step being here this weekend, leading into Rio but Callum I am riding here will not be the horse I will, hopefully, be qualifying on. Jay, my other horse will be at Boneo, he is just coming back into work and will hopefully be ready.
The Road to Rio for me is doing all of my management, my physio, pilates, watching my diet, exercising, riding as much as I can. School is finished for me now so I can focus more as well.
The 2015 Saddleworld Dressage Festival is held at Werribee Park National Equestrian Centre near Melbourne in Victoria. Over four days of competition with 400 competitors performing over 800 dressage tests. Important milestone for our Para-equestrian riders, it is the first Rio Selection event.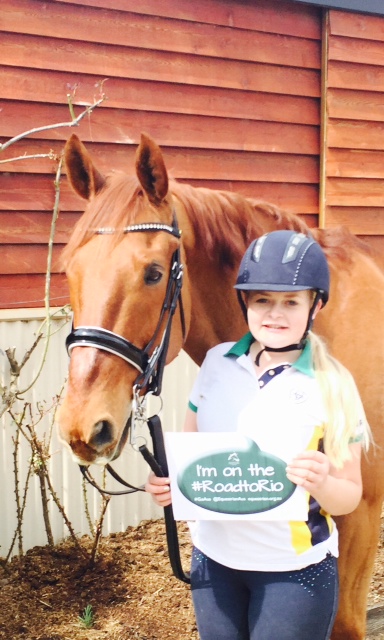 Caitlin with Jay on the #RoadtoRio
RELATED #ROADTORIO STORIES : 
To read all the Para-equestrian NEWS, articles interviews of the riders ... click HERE.