Exciting journey for 2016 Sport Australia Hall of Fame Scholarship winner Elloise Devlin
EA speaks to 2016 Sport Australia Hall of Fame Scholarship and Mentoring winner Elloise Devlin and checks in on how her exciting journey is going.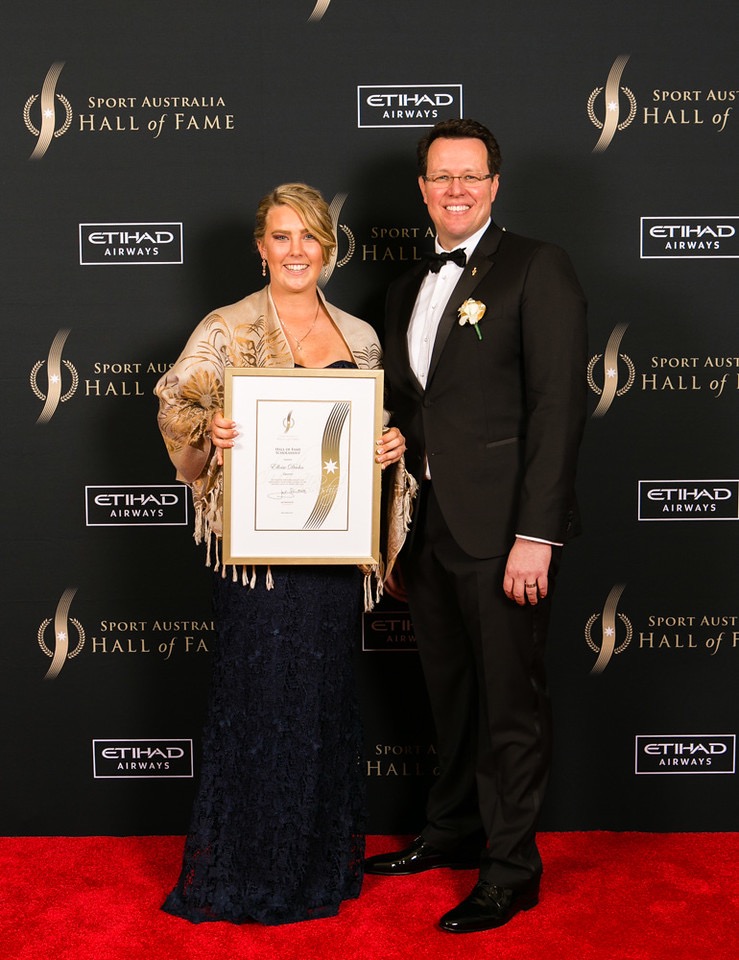 How did the scholarship all come about and your pairing with mentor Kieren Perkins?
I first heard about the scholarship through one of my Mum's friends, who sent through the scholarship application and suggested that I should apply for it. After reading through the application form and requirements, it was an opportunity I had to try my chances at, so I filled it in and sent it through to the Sporting Australia Hall of Fame (SAHOF), whilst on the way home from the National Young Riders Championships at SIEC too. A few weeks passed, and I continually looked to see if there were any updated on the Sporting Hall website, or any announcements on Facebook- I was pretty eager to see if my application had been selected! But it was when I was on my final school camp/retreat that I received a voice message from the Sporting Hall asking if I could call back ASAP in regards to the scholarship! Hiding out behind my cabin, I called back, and got put through to the right people, and was told that I was one of the five athletes selected to win the scholarship. At first I just didn't know what to say, then had to repeat/confirm what I had just heard, then I just laughed in disbelief and the smile on my face could not have been bigger! It took me a good five minutes to realise that this had just happened. I was not allowed to tell anyone (other than family and my coach) of my news until the Hall announced it in a few weeks time. I got straight on the phone to my Mum, and after telling her I had won, she was even more ecstatic than me somehow (I think she might have even cried a bit too??), I then called Dad, and he couldn't believe it either! So for the rest of that camp (a camp about honestly and sharing…) I sat there with a smile on my face, and continually shook my head laughing to myself that I had won this.
After the official announcement, and about 2 weeks before my graduation, my parents and I flew down to Melbourne for the annual Australian Sporting Hall of Fame Gala Dinner- 'The Night of Nights' for Australian sporting. The afternoon before the big ceremony, a meeting was held for the mentors and new scholarship holders, which was a chance for us to meet and have our first one-on-one talk with each other. The conversation between Kieren and I was great! The 'horse talk' was made easier as Kieren use to attend pony club as a kid, and his family had ponies during this time too. We spoke about things such as what I wanted to get out of the mentoring, what my plan for the coming year was, and also about how my training and competitions schedules had been for the year. I was also very interested to hear about Kierens' experiences in and out of the pool, at different competitions, how he handled the pressure from training, competitions, and the expectations that were pushed on him, but also how to form and control a stable mindset when this pressure (from yourself and others) came on. It was a very insightful and eye-opening conversation that I feel lucky to have had the opportunity to share with Kieren.
Walking into the very formal and fashionable crowd of people at The Crown Melbourne, I think almost every person in the room was famous in some way, from sporting legends, politicians, news reports, you name it, well, them, and they were there! I was lucky enough to meet some of these people, including Michelle Payne- a fellow equestrian, of course Mum and I had to talk to her (about horses of course).
The scholarship presentation was the first of the night, with each recipient being awarded their scholarship by their mentor on stage- this was a very cool moment, one that I won't forget. Standing in front of so many sporting legends, with them hearing about your own sporting successes is something that you wouldn't think would ever happen. It was the most fantastic night, one that I feel so lucky to have been a part of and experienced. The scholarship received quite a lot of attention from the equestrian media, with pages including Eurodressage, FEI and Equestrian Australia sharing the news about it; this was pretty cool to see, and something that I can continue to look back on. 
Kieren is an Aussie Olympic swimming legend, how much do you feel you have learnt from him so far?
The advice that I have received from Kieren has really helped me set goals and shape the way that I look at certain situation and outcomes. The experience that he has gained through his training, successes and personal experiences are very extensive, and to be on the receiving end of such advice is a fantastic opportunity. I think the most valuable advice I have received relates to developing a positive mindset, and how to maintain this possible outlook on my short, mid, and long-term goals when things can get tough. There have been a few times when I wondered why I am doing this; being away from home for so long, leaving my horses to come and ride over here, it can get tough, especially if it's a hard day. I emailed Kieren about this, and what advice he can give to me on what to do/think when I am feeling this. His response was to "Commit to a timeframe and under no circumstances question it until its up." Think about how this is benefiting you for the future, and for your training for when you come back home- "Often when you're in the middle of something tough it's normal to want to quit/change your mind, but when you stick it out and get through it you realise, I'm glad I pushed through because it was worth it."
I look forward to hopefully catching up with Kieren in Melbourne when I get home, as I will have so many questions and things to discuss about my time overseas, how I should try to shape my new training, and also how I can look at shaping my future.
It is interesting that you should be paired with someone non-horsey. Has this helped bring a new perspective to what you do as an athlete?
When I was told that I was to be mentored by Olympic swimmer, Kieren Perkins, I must admit that I did think it was a strange pairing. However, I had read on the Sporting Hall's website and had seen from past scholarship winners that this type of pairing was common. In our first meeting with all the scholarship winners and their mentors, it was then explained to us that the SAHOF mentoring program committee tactfully select mentors for each recipient that are usually from varying sports to allow different outlooks and ideas to be shared, which I think is true. Obviously you can't talk about how a swimmer trains and put that towards training a horse; but the similarities in things such as the sense that both sports consist of an individual working in a team can definitely be compared and discussed in a way that both sides can relate to. It is these sort of discussions about two completely different sports that really allow you to see things from a broader perspective.
What else have you gained from the scholarship so far?
Along with the mentoring from Kieren, I was also awarded a return ticket from Etihad Airways to any destination in the world to use for sporting purposes, that in which I used to fly to Germany in December. This ticket opened the doors right up for me to come to Europe, so I am very thankful to Etihad for their support of this fabulous scholarship this year, and every other year since the program began. The Sport Australia Hall of Fame Scholarship & Mentoring Program also awards $5000 to be spent on things such as sporting equipment, lessons, and competition and travel fees. I don't think I need to explain how much all of these things (well, just anything to do with horses really) can cost, so this has been a big help too! This scholarship has given me a big push forward in my sporting endeavours, as well as giving me connections to sporting legends and connection that I can stay in contact with well after the scholarship time is up.
You are currently based in Sweden, can you please explain a bit about yourself a bit about what you're doing and how long you plan to be there?
Yes, I am; I didn't think when I came to Europe that I would find my way to Sweden, but I am so glad that I have! I am working with Mads Hendliowitz and the fantastic team at Segersta Equestrian, which is situated right above a beautiful lake, and about 40 minutes Norwest of Stockholm. It is a very multicultural stable to say the least. Within our team we have people from Sweden, Poland, Ukraine, the UK, France, and now Australia! At the moment the stable is full of some very nice horses (mares, geldings and stallions), including Mads' own Rio Olympic mount, Jimmy Choo. The horses range from 4-14 years old, and cover all levels from young horse to Grand Prix. I have been riding 3-4 horses each day, ranging in age and levels, which has been the best way to expand my riding skills I think. They are all quite different, so it makes each ride interesting, and allows me to learn what methods work the best with certain situations and styles of horses. I really enjoy my lessons with Mads too. I get a lot out of each one, whether it be on the horse, or watching from the ground and having him explain what he is doing while riding.
There is also a great team feeling in the stables, one that is supportive, friendly, and open to ideas and change. At the beginning and end of the week we all have a meeting to talk about the week, what is happening/coming up, what needs to be done, and if any suggestions can be made, this is something that I like, as it makes everyone feel included, equal, and able to voice their thoughts.
I am very happy and lucky that I have been able to come to Sweden to work at Segersta- I am learning a lot and having a fantastic time while doing so! Since arriving in Europe in December I have gained a lot of experiences, both with horses and while travelling or being a tourist. I have so many new methods to bring back home to work on with my two horses at home, and to hopefully share with others. So of course I am excited to come back home at the end of the year, but I will also be sad to leave Europe and everyone here- with that being said, I guess I will just have to come back over now wont I.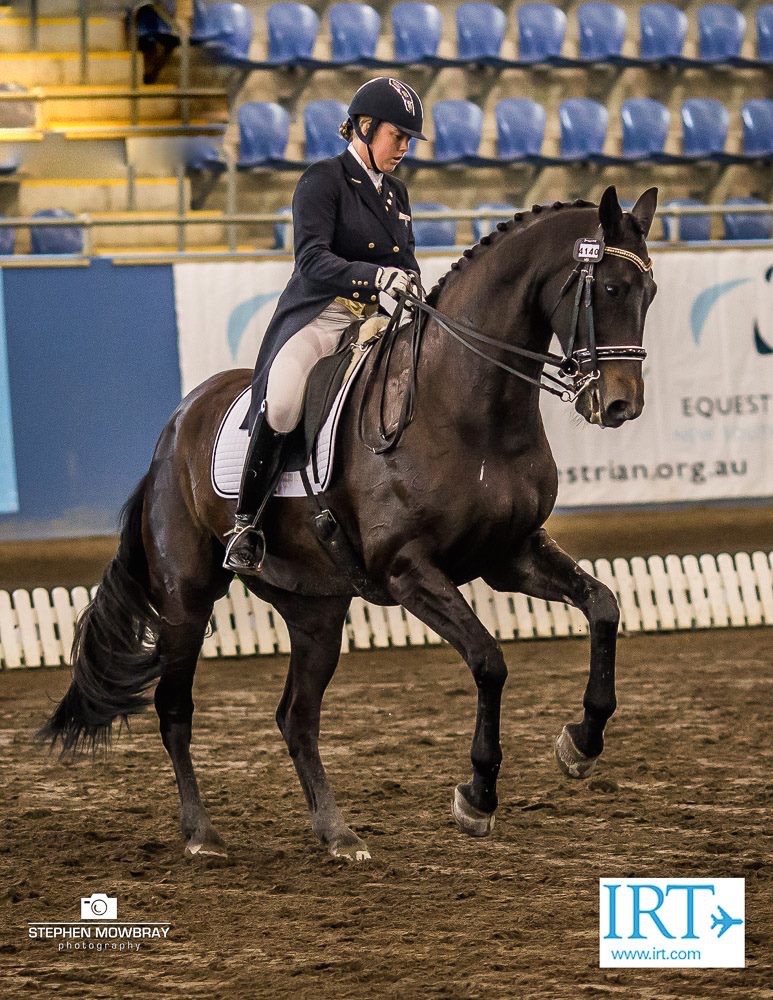 How strong are your Olympic aspirations in Dressage?
I think that for a lot of young riders, the ultimate dream is to be able to compete for their country at the Olympics, and of course I have had this dream too! After watching our riders campaign and go through the process of qualifying and traveling to get to Rio, it is a lot of work, time and money to take into consideration. If the right horse and timing comes along, then of course I would love to try my chances, but I think it could become more of a possibility for riders and horses within Australia if the qualification competitions took place here. It has been a point of discussion for a while now, and will hopefully become a reality in the coming years for Australian based riders. 
Which of our elite riders do you look up to the most?
There are several of our riders that I look up to, with each having made their way to the top of dressage in Australia (and some internationally). I think this in itself can be quite challenging, especially in our country where sponsors and money are not as wide spread as it is in Europe and the US.
I really like Brett Parbery's riding concepts and style, it is one that is soft and allows the horse room to move and learn what is right and wrong. I have had a few lessons with Brett, and have thoroughly enjoyed each one, with the harmony and clarity between the horse and rider being a standout, too.
I also look at the path that Jayden Brown has taken as one that is admirable too. From starting off as a young rider in dressage and working his way through to the FEI levels, then into international young rider championships, onto open Grand Prix, and now working and riding at a renowned international stable (Mount St John) alongside one of the best riders in the world (Charlotte Dujardin)- That's pretty cool!
What is your best advice to other young riders that would like to follow a similar path to you? 
Hmm… my advice would be to give everything a go, try new training methods, ask/seek for people's help, be open to change- especially if you plan to train overseas! Be open to change in your riding methods, opinions, places and people to train with, and how to approach different situations. Another tip if planning to come overseas, make as many contacts as you can whilst in Australia, and throughout your time where ever you go; you never know who you might need to message or call- and you also never know what those people could come back with, or who they know that can help you. All in all- enjoy yourself, take lots of photos (!!), and take every opportunity that comes your way- because you never know where that path could lead you. 
Love your horses and be fair with them, and of course love and be thankful to your parents, friends, coaches, and everyone that supports you!
I would lastly like to thank my Australian sponsors- Prydes Easifeeds, Horseland Sunshine Coast, and Giddy up Girl Australia for their generous support of me and my horses for the past few years. My coaches, Jenny Gherke and Emma Flavelle-Watts. And of course to my amazing parents, for supporting me in my year away from home, I don't think I can thank them enough.