COACH OF THE MONTH Elizabeth Tollarzo
COACH OF THE MONTH is a regular series in our Evolve e-News. It is a way of highlighting the EA coaches and educators who work with dedication and passion all over Australia.
Elizabeth Tollarzo (Liz) is a level 2 NCAS Dressage Specialist Coach, a level 1 General Coach and a Coach Educator. She is 47 years old and teaches from home on her family property in Wandi, where lives with her husband, Dino and her 8-year-old daughter Mia who started riding at Baldivis Pony Club this year. She travels when time allows and for clinics all over WA. In between 'horsing' she enjoys boating, fishing, diving, four wheel driving and camping with her family. Liz has been involved with EWA Youth Development as a Dressage Coach and Team Coach travelling with the WA Interschool Equestrian Team to Nationals 2015.
Liz remembers: "I always loved horses and did drawings of horses before I could write!" From 6 years old she started riding lessons at Wyandra Riding School which was owned by Karen Spice's dad, Mr Van Allan until she was 15 and her parents finally succumbed to her addiction to the weekly shopping list of 'horse' under the usual grocery items. Her parents knew nothing about horses but as her best friend had a palomino, Liz told them that it was absolutely necessary that her horse was a palomino too! The resulting 3-year-old palomino gelding proved to buck her off every day. "Something I never told my parents about when they picked me up at the end of the day with my horse," she said. Liz finally had to sell her horse when she started year 12 so she would focus on her studies however once this year was over, Liz started retraining a variety of horses in her spare time between university.
"I was interested in Jumping and Eventing but I had little to no knowledge in Dressage although after purchasing a QH x TB, who had a terrific buck - he could certainly jump but was very badly "horse-shy" so I started doing more Dressage," she said.
Liz rescued and retrained different horses which she then rehomed, owned both an Andalusian and a Fresian but finally decided to purchase a warmblood horse, "which seemed to be what you needed to be successful in Dressage," she said. After selling her cross bred quarter horses, and with some financial aid from her parents, she purchased her first warmblood from Roz Tippett, a Barabadeen mare who was in foal.  The resulting offspring was Wandiera Bay, 'Emma', who took Liz up into the FEI ranks along with another big holsteiner - 'Altissimo' whom she part owned with Mrs Fiona McCloud. Both horses went with her to the dressage nationals competition in 2003: "It was an amazing experience, my personal best was a 6th place in the inter 1 freestyle class." 
"I always loved watching Grand Prix dressage and now just enjoy so much the training towards this work and I also love doing work in hand and in long reins. "
Her horse family at the moment consists of Wandiera Bay ("Emma", 22 yrs, now mostly retired although she still thinks she is ready to compete!), one of her daughter's Wandiera Rhumba (6yr by Royal Hit, a very exciting young horse which she aims to start in her first competitions next year),  her son Wandiera D'nero (3 yrs by Lord D'Niro), Wandiera Rembrant ("Remi", 11yrs by Ritual, who seems to have got over his shoulder injury with the amazing work of Dr Michael Harwood from Oldbury Equine Clinic,working alongside Dr Margot Seneque. He should be ready to go out at FEI level for 2016), Bella (4yrs by Furst Love), and finally Vinnie (19 yrs a welsh cob D) and Charles (19yrs welsh pony) which are her daughter's two ponies.
Liz has bred a handful of very competitive warmblood horses and also rides a lovely horse owned by Pam Page called Everton Park Jet Blauw D, "Jetson", which she has been campaigning for the last two years: "I am very excited about Jetson's progression through the levels and have high expectations for his future. He has been my main competition horse for 2015, but sick at the beginning of the year so only approximately 5 months competing, resulting in many firsts despite starting a new level at medium, he has also had three starts at advanced level winning two of these competitions. Jetson also won south west medium horse for 2015 and next year will certainly be an exciting one for him!"
"I enjoy teaching very much". After year 12, Liz went to Curtin University to become a secondary school teacher. After the first year she changed direction working in a legal office for over 15 years before deciding she really did want to teach. She obtained her qualifications as an NCAS coach and started living the life she had always wanted. "But it was better than I had ever hoped," said Liz. "Being able to teach about a subject that I love - in the open air - helping horses by helping their riders improve and find both parties better ways to communicate with each other! I enjoy working with children, teenagers and adults - anyone wanting to learn more is very welcome and a good lesson really makes my day! I always try and make it fun, I do occasionally 'growl' when needed, and there are always the times where many repetitions are going to have to be done - but I find it more enjoyable for me, my clients and the horses if I can keep a light and happy attitude to my lessons and keep the work varied and active. I can't say much more except I love horses! "
Liz has assisted EA on occasions, running face to face workshops as well as doing demonstrations such as lunging or long reining for various clubs. She regularly teaches at the Dressage Club of WA and occasionally at Transitions. She particularly enjoys writing articles, drawing and taking photos, regularly providing material for Hoofbeats Magazine.
Liz's ambition long term concerning her teaching is to keep herself approachable and affordable to all riders whether junior or young riders, non competitive and competitive, as well as to find some talented horses and riders to encourage up the levels with aims to compete at national level. "I am already very privileged to work with some amazing clients (and friends) and their equally amazing horses and hope to continue this work towards their own personal dreams and plans for 2016," she saud, 
Her personal competition aim next year is to represent WA at the Dressage Nationals, hopefully with one or two of her own horses and the beautiful Jetson. She would love to continue her qualifications in the future to obtain her level 3 in coaching as well as one day becoming a dressage judge. "Meanwhile I want to keep developing my knowledge in all aspects of horse riding and management as that is the amazing part about working with horses - there is always more to learn! "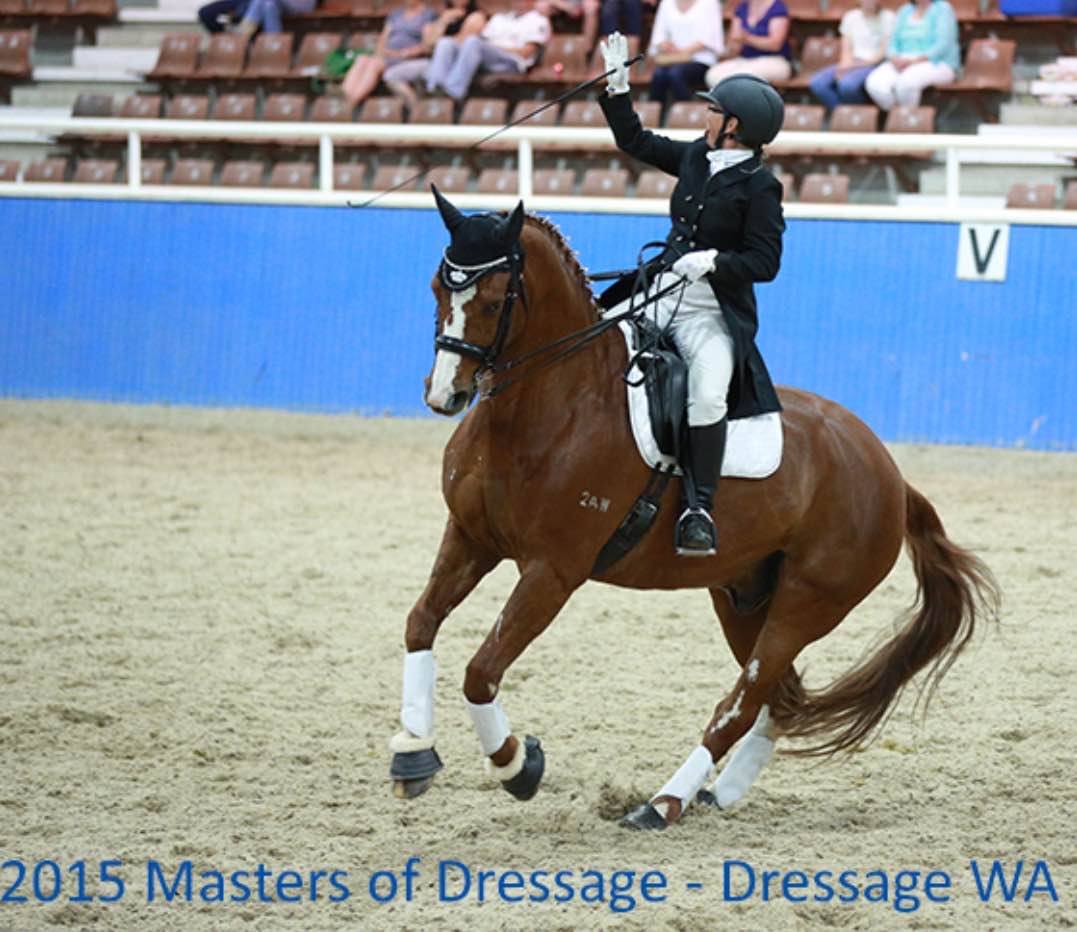 Related articles :