COACH OF THE MONTH Lyn Jutilane
COACH OF THE MONTH is a regular series in our Evolve e-News. It is a way of highlighting the EA coaches and educators who work with dedication and passion all over Australia.
Lyn Jutilane is a level 2 NCAS Coach Educator. She is 54 years old and lives in Clarendon, SA with her husband and her two daughters on the property she bought from her parents last year. This property she transformed from a goat farm to a well known equestrian centre.
"My earliest horse memory was when I was about eight. I was telling my friends that I had both a black and a white Shetland pony that lived on my uncle's farm. My uncle never had a farm!" But Lyn's very non-horsy parents finally succumbed to buying her older sister a horse when whe was eleven. She kept her horse in a large paddock with many other horses. One of them being this very skinny 15.2hh gelding that had come off a station. He was neglected due to a family break-up. Little Lyn convinced her parents he "needed her", so at 13 years old she finally had her 'magnificent' horse. His brand was the shape of a pistol so that was what they had named him. "I remember many times coming home crying because the other riders called him 'backfire' as he would pigroot all the time and never wanted to go forward. There was no money for lessons but Pistol's paddock was in riding distance to the local riding club so I became a member. I learnt a lot watching good riders and tried to copy them," said Lyne. 
After leaving school Lyn became a travel consultant. She bought her next horse and continued riding at club level with some success. She started helping out and doing a bit of teaching at a local riding school on weekends. At 24 she decided she wanted to become a fulltime coach so she saved money up to go to England and train.
She went to Porlock Vale Equestrian Centre, Somerset, to train to get her British Horse Society A1 qualification. It was hard work and required strict discipline. A white glove was regularly run over the horses by the head coach to see if any dirt remained after grooming. The students had to wear shirts, ties and head scarfs every day and had to wear a tweed hacking jacket to go on a trail ride. Lyn also had a short job assignment in America running a riding centre at a summer camp.  On returning to England she started a new job running a riding school for a year in Surrey. Her training continued and she passed her British Intermediate Instructor qualifications. "My time in England formalised my equestrian education. This training has been a great asset over the years especially as a current coach educator."
After this time in Europe Lyne entered the NCAS Coaching program beginning with her Level one, then level two and now is currently an NCAS Coach Educator.
In 1987 her parents bought a property south of Adelaide which previously was a goat farm. Over the years Cartmel Rise Equestrian Centre slowly evolved. As the years went by Lyn's clientele and the number of her school horses grew into the established business it is today. Last year, with her husband, she bought the property from her parents and moved there with their two daughters. "Now aged 54, after nearly 30 years of driving from home to work it is wonderful to wake up and see my horses in the paddock," she said. 
In terms of her own practice, Lyn did a bit of Eventing before she had children but Dressage was the discipline she loved the most. Her dream is to ride Grand Prix Dressage. She has owned two horses who competed on the SA State Squad: Graf Khan Graffiti and a home bred horse called Cartmel Rise Whispering Jack. Both finishing their careers at Inter One. Lyn also bred her current horse, Cartmel Rise Rafiki by Ritual and out of a Graf Landau mare she competed on. Rafiki was the Be Active Elementary horse of the year in 2014. "He is by far the best horse I have ever ridden. I hope to do his first Prix St Georges test later this year. Fingers crossed he can get on the SA State Squad and go all the way to Grand Prix." Lyn would like to continue competing for as long as she is able. She feels she has been very lucky in her career to work with some great mentors and continues to learn from her peers.
As a coach, Lyn believes that learning something new helps you understand the difficulties students feel when learning new skills. She has just taken up learning the drums. "It's great for co-ordination and frustration. Singing is next but I'm keeping that quiet." Over the years Lyn has taught riders of all ages and abilities on her school horses and horses of their own. She runs weekly lessons, school holiday programs, and travels out to coach. Some of her clients learn to ride for pleasure and others have gone on to being successful competition riders. She is on the SA Coaching Committee and as a Coach Educator helps run orientation weekends for intro coaches. She really loves mentoring new coaches and seeing their development. 
"In my work I teach a lot of adolescent girls and I believe horse riding helps them gain confidence. I think the skills necessary for horse riding transfer into everyday life. Skills such as self-worth, discipline, responsibility, and courage. The patience and respect necessary for dealing with a flight animal, much stronger than ourselves, is very empowering. I'm interested in finding out more about how horse programs can support young people in the community."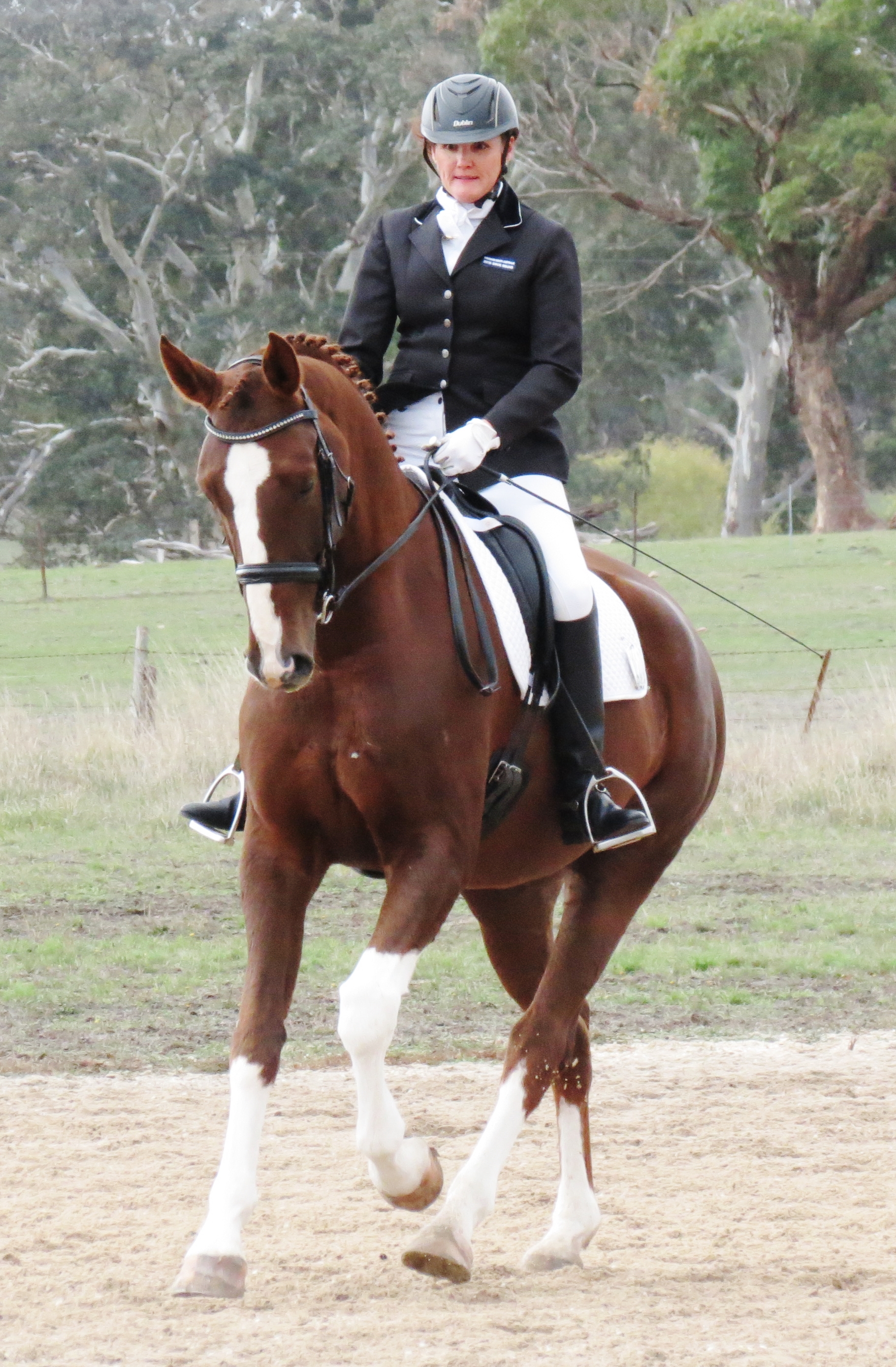 Related articles :