COACH OF THE MONTH Nellandra Henry
COACH OF THE MONTH is a regular series in our Evolve News. It is a way of highlighting the EA coaches and educators who work with dedication and passion all over Australia.
Nellandra Henry is a full-time accredited EA Level 2 Jumping Coach and a Coach Educator in Western Australia. She is also a level 1 General Coach and a Skill-Specific Trainer/Assessor. She lives and works at Benell Park in Gidgegannup with her partner Ben, who also rides and competes in showjumping. Nell won EWA Community Coach of the Year 2015 and is a regular Coach of the EWA Young Rising Stars Squad.
Horse riding is in Nellandra's DNA.  "I inherited my passion for riding from my mother. Before I could even walk, I was on a horse. There are so many reasons I am extraordinarily proud of my mum, an accomplished event rider, but one of the biggest reasons I admire her so much is her drive that propelled her to establish the Claremont Therapeutic Riding Centre. Witnessing firsthand the transformative power of horse riding for people with disabilities has made a lifelong impact on me." Nellandra's mother, M'liss Henry is the founder of the first Western Australian RDA (Riding for the Disabled Association of Australia) centre in Claremont. Raised on a station near Condobolin in New South Wales, M'Liss moved to Perth after marrying a local rugby player in the 1970's and began offering horse rides to disabled children at a paddock in Claremont in 1972. 
"As a child, my favourite place in the whole wide world was at the stables. From riding and learning to work with horses with different skill levels to cleaning stables and being responsible for the care of equipment – I loved it all." 
When Nell turned seven years old she joined the Perth Pony Club and competed in all the disciplines. As a teenager, she competed in intermediate 3-day-events and was on the WA Eventing Young Riders squad from 1992-94 and placed in the National Junior Eventing Championships in Lochinvar, NSW.  "When I went to university to study biology, my focus shifted to showjumping. I always had a love for jumping right from my first royal in the pony classes aged 11. I will never forget how big those jumps seemed on my 13hh pony. I can remember seeing the top rail through his ears!"  After completing her degree, Nellandra went travelling and worked with horses in Europe and the United States. 
Nellandra started her coaching career at the Claremont Therapeutic Riding Centre. The Centre caters for riders of all abilities and has had many representatives at the Special Olympics and on the Para Squads. "I feel this has given me a unique insight to coaching and being able to work with many different levels of riders. I love being part of each rider's journey, progression and partnership with their horse, whether it be a 4* eventer, GP jumper or a young pony club member." 
She travels around WA conducting clinics and she is the head coach of the local pony club and the jumping coach of the WA Interschools Squad. In the past, she has been on the WA Jumping Committee, show committees and has ran shows also.
"I have been privileged over the years to learn from so many talented coaches.  I want to pay it forward and pass on what I have learned as a rider and coach to others. To me, it is critically important for young riders to receive good coaching from the beginning. It makes everyone's life easier, better and smarter for young riders begin with a foundation of mutual trust, respect and correct skills." shares Nellandra. As a coach educator,she sees this as helping everyone around the state be able to access good coaching." I believe there should be easier access to coach educators for Jumping in WA and not have to rely on interstate assessors."
Nell is passionate about coaching "I provide quality training for riders and their horses, with the aim to help them achieve their goals – no matter what size. I conduct clinics (on-and-off site) and provide one-on-one and group coaching lessons to develop the horse and student's horsemanship."
With her partner Ben, on their property of Benell Park, they also breed one horse every year. "We have a super broodmare. I currently have three competition horses Noblewood Park Corsair and Covert Operation and Noblewood Park Caratino's Boy. Covert Operation has been one of my most competitive horses winning most of the major Grand Prix classes in WA.  NP Corsair is just stepping up and has got some good placings this year in 1.25 and 1.30 classes. Noblewood Park Caratino's Boy is a talented grey stallion that I ride for Linda Page, he has just jumped his first 1.15m."
When you talk about the future to Nell, she feels it is bright! "We have developed a business plan to grow Benell Park to include new and improved facilities on our property so that we can run even bigger and better shows, training days, clinics and coaching courses. This is definitely a team effort and Ben is excited to have commenced his introduction courses to start coaching with me."
One of Nellandra's personal goals is to build the jumping team up again and be able to travel east for some of the bigger shows. "I want to keep competing at the top level of showjumping for as long as I can, keep producing our own horses and possibly continue along the NCAS pathway to level three."
"Each and every day I wake up feeling so incredibly fortunate to be able to do what I love in a place that I love" she concludes.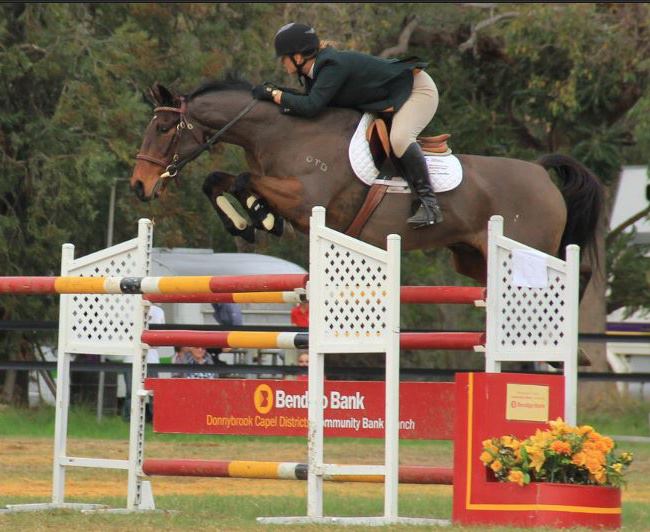 Related articles :