Photos courtesy of Jill Schwartz
COACH OF THE MONTH Jill Schwartz
COACH OF THE MONTH is a regular series in our Evolve News. It is a way of highlighting the EA coaches and educators who work with dedication and passion all over Australia.
Jill Schwartz is an NCAS Level 2 General Coach and Coach Educator. She is 58 and lives with her long time partner Pieter on a small acreage near Richmond in Tasmania. They have a daughter Kate, 25 who now lives in Hobart.
She has been on the Dressage Tasmania Southern Zone committee for 30 years and has been the DT Young Rider Squad Coordinator for the past 10 years. She has twice been Equestrian Tasmania's Volunteer of the Year. She was also an E level Dressage judge for over 20 years and is hoping to reaccredit in the near future.
Jill was born in suburban Southern California and spent most of her pre-teen years there. "My love of horses must have come from my mother. Before she married she had half-shares in a horse that was kept right in New York City – the stables and ménage where in the basement of a typical inner city building ! Central Park was close-by and so many hours were spent riding there."
The first ride for Jill was "on a lead rein clip-clopping along beautiful English lanes – I was 8 years old and that's where the horsey dream began for me! On returning to California I constantly pestered mom to go 'horseback riding', but sadly my parents had separated and money was very tight, so my rides were few and far between. I lived for those lessons, even if I was in a group of 25-30, with the Instructor sitting in a tower barking at you over the PA. They didn't know any rider's names – you were called by your horse's name!"
In 1970 her family moved to Australia as '20 buck Yanks' and settled in Tasmania. Jill's mom said that "horses are cheap in Australia" so Jill was hoping she would get one but that never happened. So she spent most of her teenage years cadging rides where ever she could. "I am forever grateful to the Parsons family for allowing me to join their agistees and pupils on the Gillingbrook bus. I couldn't afford lessons, but would help out with the trail riding horses and was lucky enough to score rides here and there." Capt Sanna was the Instructor at Gillingbrook, and that was Jill's first exposure to 'proper' riding. From there she just decided she needed to get a job and start saving up to buy her own horse.
"Work and save I did, but then the travel bug bit hard for a few years. Once that itch was scratched I got down to studying towards a good job so I could afford a horse." Jill was living in Victoria at the time and started having weekly lessons at Mossgiel Ridge with Lex Wynmalen. Before she knew it her studies were put on hold and she was working and living at Mossgiel Ridge Riding Academy full time ! "I learnt so much from Lex and her mentor Leo Bexkens". Jill had never intended to be an Equestrian Coach, but in 1983 Lex encouraged her to attend the NCAS exam being run by Major Burman and she got the Level 2. "Thank you Lex for almost forcing me to attend the exam ! I met Piet while working at Mossgiel Ridge and finished up there to go to Los Angeles for the 1984 Olympics. We were in the stands for every Equestrian event, with the absolute highlight being Reiner Klimke's gold medal victory lap – I have never seen anything to come close to that! "
After starting up a successful Glazing business in Victoria, they decided to move back to Tasmania as Jill's mother had been tragically diagnosed with Motor Neurone Disease. "Before we left I was determined to buy a horse, and at 29 years old I finally had my first horse! St Nicolaas was a 5yo very dark gray Flaneur grandson." She took lessons on 'Nicky' with Susie Hoevenaars at Churchill, and after a short time started working for her. "Susie was such a focused rider – I learnt so much by just watching her." When Susie moved interstate, Churchill was purchased by Laura and Ollie Hedberg and Jill started teaching their daughters Ingrid and Catherine (Davies). "Laura and Ollie were great to me in so many ways that I could never repay in this lifetime, and Catherine would have to be my highest profile former pupil (sorry Bruce Williams!). One of my biggest buzzes as a coach is having lessons with Catherine myself when she comes down to Tassie."
"I consider myself a bit of a 'low profile' coach, happy to teach any standard". Jill has been teaching at Derwent Pony Club for almost 30 years, but does also many pony club camps around the state, "always great fun".  She also coaches competitive riders "some serious ones and some not so ! I enjoy helping them all reach their goals, high or low!" Jill has also been involved in coaching Young Dressage Riders in Tasmania for many years and has accompanied them to numerous interstate competitions.
Jill has trained and competed on many different breeds of horses – WB, TB, Anglo, Percheron X and now starting a Lusitano. "Apart from 'Nicky', they all found me one way or another. None of them were 'fancy' movers but they did teach me that with good basic training and smart test riding we could still be competitive. Each horse has won either a Champion or Reserve Champion at least once at our State Dressage Championships, which I didn't realize until I had to write this article!"
Her current competition horse is Ariel Manhattan (Northern Ariel by Falkland Victory). He was HOTY at Preliminary, Novice and Elementary levels. "Sadly injury has kept him out last season, but he's fully recovered now, so I'm hoping to get back out there soon."
When we talk about the future Jill humbly says "I don't have any huge ambitions for the future except to stay fit and healthy enough to ride, train and teach for many more years to come, and have lots of fun doing all three ! I would like to thank all the fabulous coaches that have helped me along the way, and I'm looking forward to riding with many of you in the future!"
We couldn't hold back from asking Sue McDermott, Equestrian Tasmania's Chair, why she believed Jill should be the Coach of the Month. "Jill has produced many good coaches and riders. Springing to mind is Catherine Davies residing in Victoria and herself a level 3 coach and coach educator now. Jill helped several of our coaches in the state all of whom have gone onto be good coaches and coach educators eg Celia Conder Lang, Kerrie Swan-Bates, Helen Malcolm and many others. Jill's attention to detail, her honesty and her adherence to the basics in the way of going of the horse (the training scale) is uncompromising. She has also been the primary force behind the dressage young rider squad. If she had a coat of arms it would read 'honesty and excellence'. I have known Jill for over 30 years and her contributions, particularly to coaching, are enormous."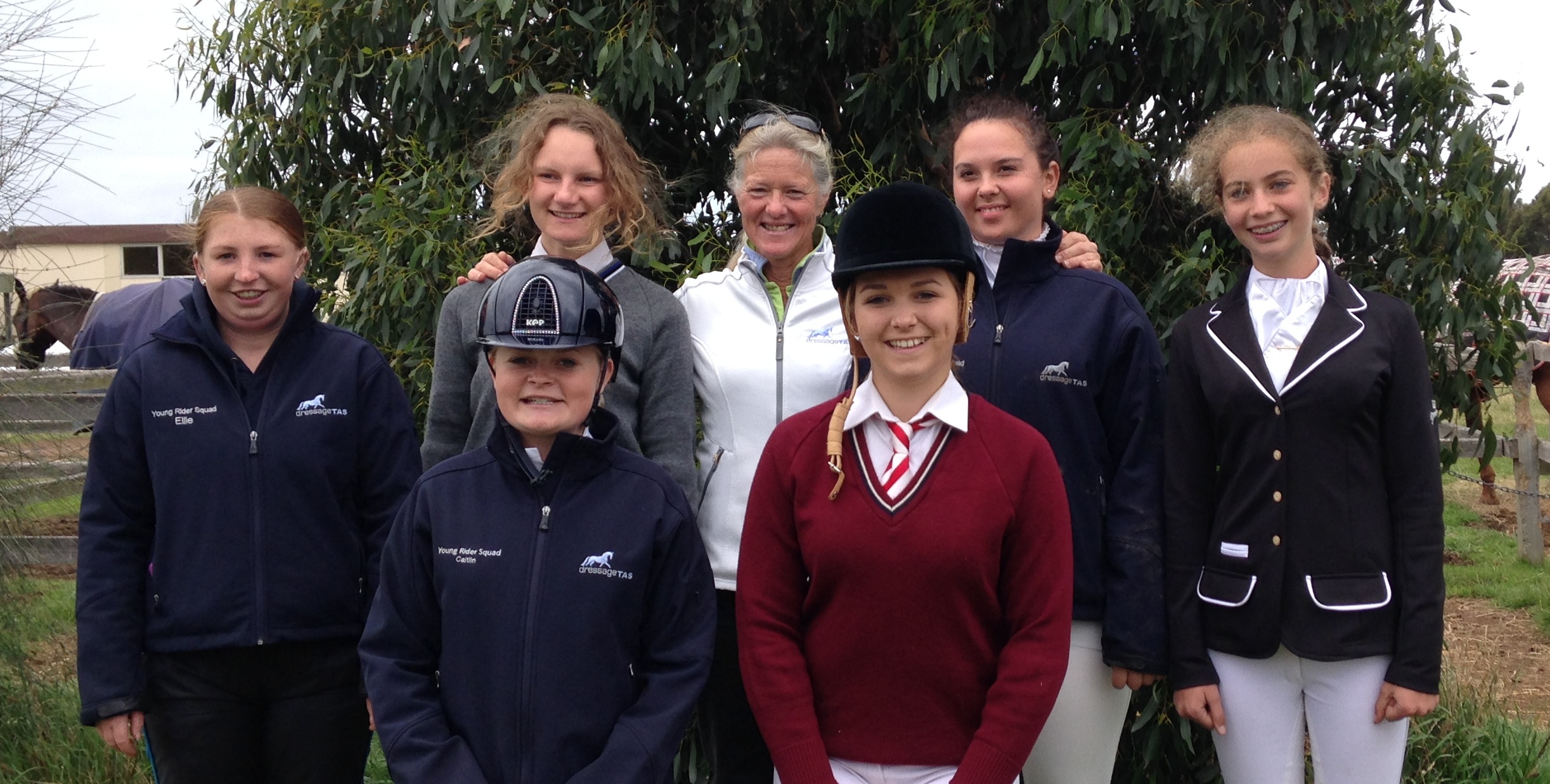 With some of the YR Squad members back row L to R – Ellie Smith, Ella Johnson, Me, Sophie McDermott, Isobel Preece. Front row L to R – Caitlin Radford and Samira Matthies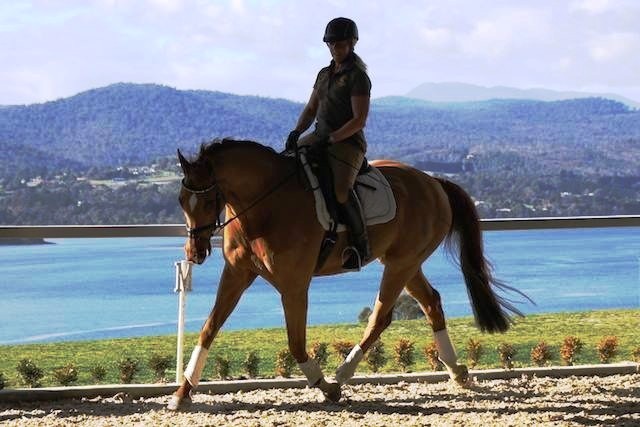 Steve and the amazing view at Bert Gibson's fabulous Indoor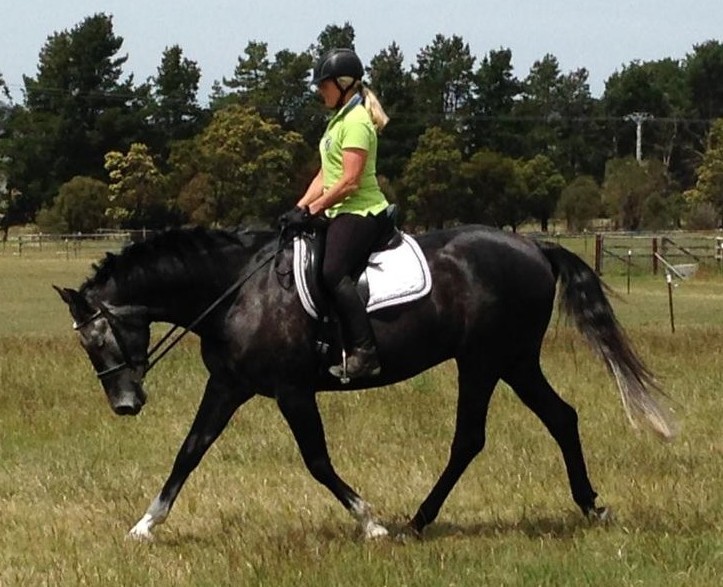 Cracker' the young Lusitano at home
Related articles :